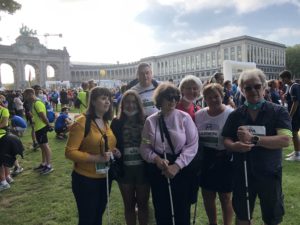 BY Candice Octave
During my stay here I got to take part in many activities, among which walks with the Brussels-based association called "Bon pied mais pas bon oeil". For several years, this association has enabled VIPs and sighted people to enjoy walks around Belgium together. I got to enjoy two walks with them, one of them being the 20 kilometers of Brussels. This yearly event usually involves runners, but was open to walkers and cyclists for the first time this year.
There were seven of us participating on behalf of the association and the atmosphere within our little group was definitely very nice. I also got to enjoy the overall atmosphere with music being played pretty much everywhere and people cheering us on. I had never gotten to visit Brussels before and it was nice to hear what people had to say about each neighborhood we walked through.
As for the 20-kilometer goal being completed, well it was nearly the case. I'm used to walking long distances, but definitely not in such a short amount of time and my body apparently decided not to cooperate until the end, I had to stop after 18 kilometers due to being dizzy. But our effort was definitely rewarded with a nice drink together after the walk, a lovely and cheery end to this fun day.
I thank "Bon pied mais pas bon oeil" for giving me the opportunity to take part in this experience and I'm glad I could challenge myself and enjoy my day with such a nice party. 🙂