Hi everyone!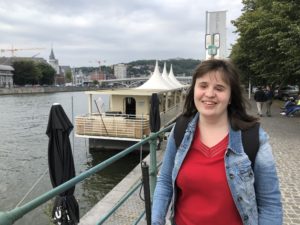 I'm Candice, a French student who has been working for VIEWS International as an intern for the past few months. You first got acquainted with me in June, when I introduced myself for the newsletter as the newbie of the team.
Now months have passed, I got used to my surroundings, and my internship is coming to an end. How time flies! Join me as I tell you about my experience here in Liège.
First things first, let's set the context. I am currently studying translation in Angers (France) and this internship will enable me to finally graduate and become a true adult (with a job and all). 🙂 I'll officially be a translator.
Professionally speaking, this internship has definitely enabled me to learn a lot. I translated for very interesting projects I'd like to take part in, I switched between working from home and working at the office, between collaborating with people and working on my own…. It has definitely been a routine-free journey for me. I got to interact with people working for VIEWS either directly at the office, or online. I talked with people from all over Europe, and each taught me a great deal about my future career as a translator, be it about how to make translation more efficient and accessible for blind people, or about staying productive and flexible, coping with technical issues, etc. I'm glad I could benefit from such a fulfilling experience and I surely feel more ready than ever to take up new professional challenges.
And now, let's get down to the nitty-gritty of it all. Liège, my life here and how I managed to enjoy my experience to the fullest. When I first arrived here, I didn't know anyone and it had just gotten a little better with Corona. Cafés and restaurants were re-opening, we were able to move around without any restrictions… But the summer holidays were approaching, and although I tried to register for activities, I soon found out that everything was closed. Thanks to my flat mates and to VIEWS International though, I soon got to meet new people and to discover my surroundings with them. I moved around Belgium, had walks with the Brussels's association "Bon pied mais pas bon oeil", went to the Netherlands with my friends who came from France to see me and got to learn more about aromatherapy, among many other things. Oh! And I ate good food too! Belgium has been kind enough to spoil me with its many specialties (among which waffles and chocolate) and I made sure to enjoy them. 🙂
Anything I won't miss? Well, let's be honest, the weather here is not the best, and the busses drive me crazy. But I guess it would have been less fun without these little quirks.
Anything I will miss? Well pretty much everything. From the lovely people I met to the places I visited to the delicious food, and many other things in between. I'm glad France isn't too far from Belgium, so I can always find an easy way to come back every now and then.
I especially want to thank VIEWS International for allowing me to live this experience and Jocelyn (one of our previous volunteers) for encouraging me to contact VIEWS International for my internship.
Thanks for joining me as I dove into my memories to give you a little snippet of my life here.
Take care of yourselves,
Candice