By Loredana Dicsi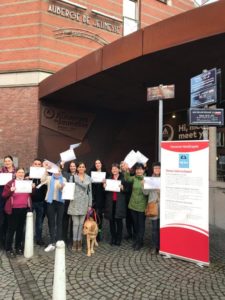 From December 13 to 17th a small group of people from Belgium and Romania came together in Liège Belgium to discover the beauty and challenges of the well-known and so little known Braille alphabet. The group from the Republic of North Macedonia was unfortunately not able to join. People from outside the EU coming to Belgium had to quarantine for ten days.  The training duration was less then 10 days.
The training was designed for teachers and other staff in school working with children and those who could potentially work with blind and partially sighted children in inclusive education.
The first day we had the opportunity to get to know each other and get into dynamic of the group. The second day we had the chance to meet also our third partner who is in fact the coordinator of the project, the North Macedonian organisation, and we learnt all about the project. Then we went to show our partners our local association for the Blind that has also a department that is in charge of assisting blind and partially sighted following education in mainstream classes.
The third day we started with some session where two guest joined us online. The president of the Dutch Braille Authority, who explained us their work in the Dutch Speaking area of Belgium and the Netherlands, to ensure that the Braille is the same in each school and that those using in other contexts are using the correct one. Then the chair of the Braille working group of the European Blind Union explained the aims and the work of the recently formed group. The Braille Working Group aims to promote Braille at European level and ensure its place in the lives of blind and partially sighted children young people adults and elderly.
Then we started to really work to get to know braille, until the end of the training. We discovered different writing tools and how to write Braille, how to read it and all kind of braille and tactile books for children and adults. And of course, very important a session was dedicated to pre-braille activities. These activities aim to help the tactile sense and the motoric sense to facilitate writing and reading. We could not end the project without a very nice activity, making Greeting cards  that were tactile.  And of course, there was also a session about what means to be blind or partially sighted and our sighted colleagues had to count on us blind and partially sighted to be guided around the youth hostel were we stayed.
During the Breaks and other free moments, we had also the opportunity to exchange, ideas, thoughts and get to know better each other.
I personally found it a very successful training despite the last-minute changes we needed to do because of the pandemic. I'm looking forward for the next steps.