By Anna Rita de Bonnis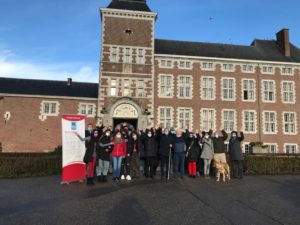 From 29 November to 5 December we hosted the training course More opportunities for adapted ESC for young VIP in Liège. Participants included Belgium, Italy, Poland, Romania, Spain, Turkey, and the UK and Slovenia who, due to the pandemic situation, participated online.
The participants stayed at Wégimont castle, a youth centre belonging to Province of Liège. It is a very nice 22 hectares property with a big parc and minigolf and pool areas.
The training was about the European Solidarity Corps Programme (ESC) of the European Commission, programme that allows young people aged 18 to 30 to volunteer abroad. More specifically, the measures available by the programme for young people with fewer opportunities and the measures implemented by our host VIEWS International to host young volunteers blind or partially sighted were presented.
Several activities were carried out to inform about this programme and some former volunteers gave their testimonies, talking about their volunteering period supported by VIEWS.
There were also moments to present their organisations and to develop new project ideas and partnerships.