Article written by Faruk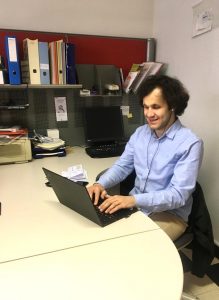 Where had we left off? My name is Faruk and I am the new ESC volunteer from Turkey working at the Views International office. You may have remembered me from the issue of a few months back with my advance planning visit and my struggles for getting a visa to reside in Belgium. I am happy to let you know that we were able to overcome all the hurdles and I started my project, arriving in Liège on March 26. I am here.
Not only I arrived without any issue, but I got my visa in six days following my application which could be the shortest processing time ever for a long-term visa. Did you think this was all? Of course not! The team at the Views International office planned my arrival in just three days and I was able to travel all the way from Turkey to Belgium as simply as traveling from Liège to Brussels.
My first days passed with an intense schedule of mobility, French and daily living lessons so that I could adapt to living on my own in Liège as soon and as smoothly as possible. I learned how to get around the city from Carine so as to be able to go and try the famous gaufre de Liège independently on my own. Joking aside, the mobility lessons I took from Carine helped me a lot in that it gave me a sense of freedom and autonomy in such a short time as two weeks to go on and explore the city myself. It made my adaptation to living in Liège as smooth as butter.
My French lessons also got to a fast start with Philippe and we began by practicing shopping scenarios for no other reason than of course being able to put food on the table. I feel like I have a long way to go considering my current level of French but I am planning to report back fast improvements about that in a few months. While learning a language, there is not a better incentive than the desire to socialize or find your way when lost or order food when you are hungry.
Coming inside, I had also much to learn around the apartment where I am going to live for the next months. With Selma, my daily living skills instructor, I practiced ways to keep the apartment tidy and slowly took up a routine in which I started to cook and clean regularly. With this pace and also considering that practice makes perfect, I expect to turn into a miniscule chef not before too long. I also have a flat mate whom I have been getting along very well.
After two weeks of a preparation period, I finally started working at the Views International office and got my first taste of the tasks that I will support the office team with. It is good to feel useful and contribute to a cause. I believe I will both learn and be of much help at the office.
Aside from the above, I have still been adapting and learning. For now, all quiet on the western front and I hope to talk to you with more good news in the following months.