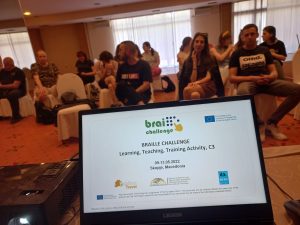 The Braille Challenge project is an initiative coordinated by three partner organizations from Belgium, Republic of North Macedonia and Romania. The primary aim of the project is to create awareness about the importance of Braille code in the communities of the partner countries with theoretical discussions and hands-on demonstrations of practical tools that Visually impaired Braille readers use. The project is open to all concerned people including but not limited to educators, youth workers and parents of visually impaired children.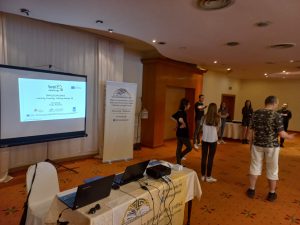 The third learning training teaching activity of the project took place in Skopje, Republic of North Macedonia between 09-13 May 2022. A group of youth workers also participated from Belgium representing VIEWS International and contributed to the fruitful discussions related to the importance of Braille.
During their experience, the participants got the chance to visit a school for the blind in Skopje and learned the methods of education received by the Visually impaired pupils. The educators of the school demonstrated how they teach Braille and other skills to visually impaired students and talked about the inclusive environment that they provide to the students.
Following the visit of the school, the participants attended a Workshop on approaches and useful methods in education while working with visually impaired students and expressed their opinions about inclusivity. There was a productive discussion about whether visually impaired students should go to special schools or be integrated with their sighted peers in regular schools with an inclusive education approach. Some participants argued that visually impaired children should be educated at special schools so that they can learn the specific skills such as Braille and mobility while the majority of the participants was of the opinion that inclusivity is important and visually impaired children should go to the same schools as their sighted peers. However, both sides fully agreed that visually impaired children should be taught Braille, mobility and other independent living skills however they receive their education.
During three days of training, both visually impaired and non-visually impaired youth workers got their hands on reading and writing with Braille code and discussed Challenges, obstacles and opportunities while teaching visually impaired children. Throughout the whole training, there were roundtable discussions about new technologies related to Braille and how to take advantage of those technologies while teaching visually impaired students.
The participants also explored the capital Skopje, a vibrant and multicultural city where the LTTA took place with a guided tour organized by the coordinator. There were numerous statues dotting the city landscape including the statue of Alexander the Great or Alexander Macedon as Macedonians call him and quarters that are full of history.
This LTTA was the last training of the project and contributed to the goals of the project with activities that emphasized the importance of Braille, created awareness and promoted a platform to discuss methods of education to teach Braille.