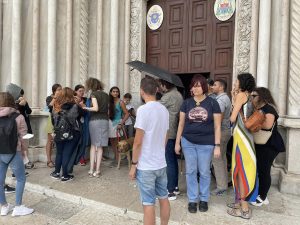 Within the framework of the city tours project and in the second stage in Ancona, the team of participants whose sending organization was VIEWS International representing the Belgian Kingdom went to Ancona on 07/09/2002 in order to attend this stage of the project. The work took place in three days not counting the travel days.
The Belgian team is represented by the participants: Jocelyn C.G, Ibrahim.T and Selma .Z and the assistants: Matthias.S and Oualid. B.
On arrival of the team a small meeting over a welcome drink was held with the participants from the other countries, namely the partner countries Italy, Germany and Turkey. What followed then was a tasting of one of the most popular traditional dishes called Risotto and it was a nice icebreaker and cultural activity which made participants meet one another.
the first day of the city tours started under the rain in the San Ciriaco's cathedral
On the heights of Ancona city, in the cathedral built on the highest point of the city 1000 years ago, the participants had the chance to discover the structure through the tactile maps of the cathedral and especially the well decorated facade. In the afternoon, a visit to the tactile museum called Museo Omero took place. Museo Omero is a unique museum in the world which houses copies of world-famous sculptures and original works of art.
The second day of the tour was specifically dedicated to activities in nature. The participants received explanations about the fauna and flora in the natural park "Portonovo" and the ecosystem on the Adriatic Sea. The participants got the chance to touch different types of leaves and their textures, their different smells, and received more information about plant life such as the way how they defend themselves against their predators.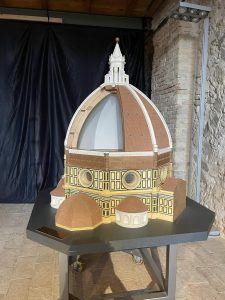 On the last day, the participants visited the city of Castelfidardo which housed the hall that hosted the meeting of the unification of Italy; then a visit was made to the accordion museum, a museum dedicated to Paolo Soprani, leader in the manufacture and popularization of the accordion in Italy. Here, the participants toured the various emblematic sights of the city as well. The lunch was taken in the church hall where we could taste local foods and listen to traditional live accordion music.
During this project the participants enjoyed their free time to go to the famous beach of Ancona, attend a music festival and go shopping. The project was a great opportunity to explore the city of Ancona through the senses of touch, smell and hearing. It was also a great example of how a city could be accessible for visually impaired tourists.