Hello readers,  I want to  introduce myself. My name is jay, I am a 23 years old blind girl  and I come from Italy.
At the end of September I will move to Liège, Belgium,  for a nine-months ESC volunteering project, coordinated by Views International.
Last week I had my first preparatory visit to Liège, which was equally coordinated by Views International, during which I had the opportunity not only to meet the project coordinators I already met before through other European projects, but also to experience the environment personally, the apartment where I am going to stay, the city and the climate.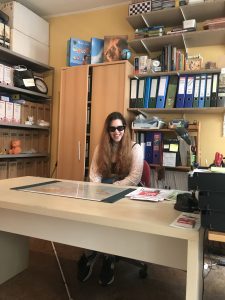 Between laughter and jokes it was said that my preparatory visit was the best because I really could experience in the first place the actual Belgian climate, since it rained every day when I was there!
This project will be for me a new experience in everything, starting with the apartment I will share with other volunteers. I am used to living alone for a long time and therefore for me, sharing the apartment is first a new challenge that I will carry out.
I met the associations with which I will work and all the people who will be part of my experience, all the people who will help me and with whom I will work. I was really impressed that everyone is so kind smiling, so friendly, and so sociable… we will really get along very well!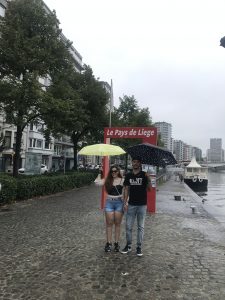 From my first visit I have already managed to understand how much the place I will move to is  definitely more accessible to people with visual impairments  compared to  the place where I am now. It will not be difficult for me to set myself and learn new ways, new places, with the right commitment and the right help.
I am not afraid of being in a new place, it is not my first time abroad; it only frightens me a little ' the fact that I have to recreate my new circle of friendships, but overall it will be fun also thanks to all the cultural activities I will take part in.
In conclusion I want to say that I will not miss Italy, but I will certainly miss all the beautiful new emotions that I will feel thanks to this project.