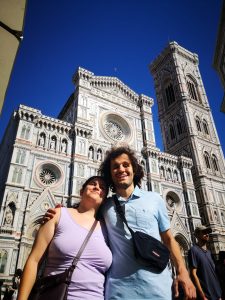 Welcome back to the trip of a lifetime article series in which I talk about my interrail travels. While planning a trip, you need to take several different aspects into consideration such as transportation, accommodation, food and accessibility / finding directions if you are blind as well as a rough itinerary of where you would like to visit and what you would like to do. In the previous piece, I had covered the interrail part of the trip which took care of the transportation side of our travels. This month, I will go into the details of other aspects indispensable for the success of your trip and talk about the methods and tools that enabled us to navigate to anywhere we wanted to go, let us swim in the beaches of Barcelona and lakes of Italy alone, and made our job easier to find last minute accommodation in cities we visited.
In my opinion, right accommodation is the make-or-break part of a trip and greatly affects the quality of your trip and your stress level. Therefore, be it a hostel bed, AirBNB apartment or more extravagantly a hotel room, it is important to keep a roof over your head at all times. Embracing this wisdom, we tried to spend the night in a covered space in an as affordable as possible manner and we primarily used the AirBNB, Hostelworld and Booking.com apps. All of these services have both Android and iOS apps as well as websites that you can check for possible choices and they are all accessible.
AirBNB is the platform where regular people rent part of or their entire places on a nightly basis or long term. Hostelworld is the service where you can find dorm style accommodations such as a bed in an 8-person public bedroom. Booking.com is the more conventional one among these three and gives you the option to find and book hotel rooms.
Being Price conscious travelers with a student budget, we preferred private rooms in shared AirBNB apartments or Hostel beds in public bedrooms. We were initially planning to stay mostly in hostels to keep the costs down but soon figured out that hostel beds for two costs as much as two-person private rooms in AirBNB apartments in major tourist cities like Barcelona and Florence, so we thought it no-brainer to go for private rooms instead of public hostel beds for the same price or sometimes cheaper.
One reason why there is such a discrepancy between real hostel prices and the reasonable prices in our head might be that we went on our trip in the high season which covers summer months and we visited some of the most popular cities like Barcelona, Rome and Florence. Another reason might be that this was the first summer with no or few Covid restrictions and we have been the victim of pent-up demand pushing up prices. Regardless, we were able to find accommodation for every night despite last minute planning and did not have to sleep on the street. We found our accommodation every time in the last moment possible and although we would not recommend last minute planning due to the stress, you could have a higher chance at finding a decent place with AirBNB if you would also like to be as spontaneous as us and leave everything to the last second.
For finding directions, we made use of millennium tools such as Google Maps and Blind Square GPS apps as well as our trusty white canes and good old asking people for help. Google Maps is a perfect example of mainstream apps that work equally well for blind people and is capable of navigating you to most places you want to go or at least bringing you very close, at which point asking people around you for help becomes relevant. Speaking of asking others for assistance, we are of the opinion that one should not hesitate to request help from sighted people when necessary. We would like to be as independent as possible, but there are certain moments when asking sighted assistance is not only useful and saves time, but also it is important for your safety.
Of course, you need to communicate while asking for help and for that you have to speak foreign languages. During our trip, we mainly communicated in English but there were also some critical moments that required us to speak other languages like French and Spanish to find our way or get rid of a bad situation. Guess what, luckily for us, in those moments I spoke French and my partner spoke Spanish. Perhaps this would be the appropriate place to mention that I have been volunteering as part of an ESC project and that is how I could speak French. See? My volunteering experience has started to benefit me even before I finished my project so if you have any doubts as to the pros of volunteering, here is a real-life example.
Lastly, I would like to touch upon how we managed to swim independently with the help of our iPhone and successfully navigated beaches to find our way. Before we went on our trip, we bought a waterproof phone case that allowed us to use our phone in the water and this was where all the fun started. Earlier, I had mentioned another GPS app that we had used called "Blind Square". Blind Square is an iOS GPS app that enables you to mark any place with GPS and later navigate to them with clock position or compass directions. It can do more but this feature was what we used it for the most during our trip and it worked flawlessly.
Choosing my phone as a candidate for possible casualty, we put it inside the waterproof phone case and took it with us to the beach. The phone case has a lanyard with which it securely hangs from your neck and that is how you carry it in the water and leave your hands free. Every time before entering the water, we marked the place where we had left our belongings with Blind Square and took my phone with us inside this waterproof phone case. This way, while swimming, we always checked where we were heading and our position in relation to the beach with both Blind Square and the built-in compass app. I am glad to report back that this setup functioned as well as we had imagined and we were able to not only stay informed of where we were at all times, but also find the place with our belongings in the beach after we got out of water.
I hope the information that I have provided so far on how we made the trip possible has been enough to answer your questions. I think enough technicalities for now and in the last piece of this article series, I will talk about the places we visited and tell stories, meaning time for all the good stuff.