The On Arrival Training (OAT) that Jay & I took part in took place between 17 & 22 October 2022 in Desdelheide Youth Center, south of Brussels in Flemish region. I know what you are thinking. Why would I go to an OAT organised by the Flemish National Agency – JINT? Due to unmatching schedules, we took part in JINT's OAT instead of BIJ's, which brought us to this to discover the Flemish side of Belgium. Fortunately, the BIJ agreed that we can participate in JINT's OAT, so here we are in the beautiful city of Dworp.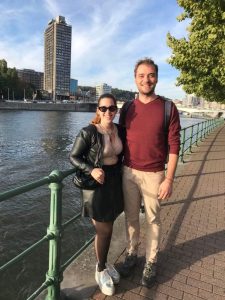 The first day went smoothly, as Jay and myself met the other 14 participants, learned their names and got to know each other. We had 3 sessions of activities in which the trainers (Natasha and P.J.) encouraged us to communicate, talk and find new info about each other. The day ended in a beautiful and relaxed atmosphere as we listened to music and spoke with each other.
On the second day, we had an activity which was focused on our ESC (European Solidarity Corps) experience up until now. It consisted of us walking around Dworp while talking with each other about specific topics regarding volunteering in ESC. Soon after that we met with a representative of JINT – Barbara, who gave our answers regarding our ESC experience by asking questions divided in four topics: Rights & Duties, Money, Health and Free Time. This session lasted longer than everybody expected and with it, we ended the activities for the second day. We ended the day with a walk in the city of Dworp to enjoy their local fair – Jaarmarkt, which had a lot of games for children and young people.
On the third day we were split in five groups and each group had a different topic to research and present, regarding the Belgian history: Battle of the Golden Spurs, The Royal Question 1945 – 1951, Mining disaster in Marcinelle, Assassination of Patrice Lumumba and Student protests against French dominacy. All these topics were discussed within our group. The trainers made us understand how history shaped Belgium into what it is today. Afterwards we were given the task to create our own project with the following rules: everybody should learn something, it should not be googled and should involve local people. We decided to go to Antwerp and implement the project "Story of my Life" in which we asked local people questions regarding their life and what advices they have for people outside Belgium. We created our strategy plan, we shared tasks and organised our time to finish the project and to present it the next day.
Following the tasks for the project, we went to Antwerp to work on our project on our fourth day. We asked locals and tourists questions about their thoughts regarding how it is to be Belgian, if they feel the EU's influence in their life, what advice they have to non-belgians and other specific questions. While talking with them, we discovered the city, its history and its beautiful architecture. We had limited time to discover the city but in the end it was a fun and productive day which we fully enjoyed and came back to prepare the presentation of our project which was held the next day.
On the fifth day we presented our project together with the other three teams and everything was incredibly interesting. It was funny to hear all the stories and experiences everybody went through and we had a really good time listening to each other's projects. After the presentations finished, we got the chance to meet the volunteers who stayed 6 or longer months in Belgium and hear their experiences and places that they recommended during their stay in Belgium. We also met the Belgian volunteers who went to other countries for their ESC projects. With them we talked about how it was for them to adapt to a new country, to learn the language, what their objectives were and what they learned from it. Overall, it was a pleasant activity in which we had the chance to meet new people with the same interest: the ESC programme and volunteering in another country.
The last day we got information about the Youthpass Certificate and was the day for evaluating the week that we spent in Desdelheide. Overall it was a nice experience in which I met with old and new volunteers from different countries and we had the chance to exchange information and experience about our countries and Belgium.
We are looking forward to the MTT (Mid-Term Training) which will be held in January or February.