Hello everybody and welcome to a new article about volunteering. My name is Mihai, I am from Romania and I am the new volunteer of VIEWS International. Where should I start from? My coming here was smoothly organised with the help of both hosting and sending organisations. Fortunately my flight was not cancelled and I succeeded in arriving in Belgium with no problems on 28th of September. My first few days here were spent getting adapted to the new place and the new weather (which is colder than in my country at this time of the year) and I met my fellow volunteer, Jay, with whom I share the accommodation with. Since I lived by myself for a long time in Romania, I need to adapt to sharing a place with someone, a thing that I'm sure will be an easy thing to do. I also started a small-scale exploration of Liège, making sure I don't get (too) lost. I took advantage of this to visit the Science Museum of Liège – Aquarium, where I discovered a rich display of the maritime ecosystem. The week that followed I started going to the office and received information about all my responsibilities as a volunteer. There are new things I have to do that I didn't do before, but this represents a chance for me to develop my work and my social skills.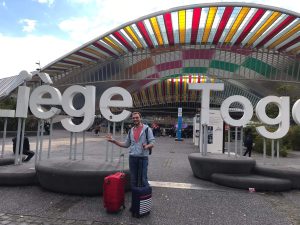 In my first week I took part in exploring the city of Liège, an activity organised by Anca, our mentor. I learned plenty of historical facts about Liège and about important buildings like the Palace of Justice, St. Lambert's Cathedral (which unfortunately was destroyed in the past). Together with Anca and Jay, we decided to end the day by eating pizza for dinner and find out more about each other. The next day we went to visit La Lumière, an association that has worked with Visually Imapired People (VIP) since 1919! There I discovered all the activities, opportunities and assistance offered to VIPs. I was impressed by the plentitude of objects that they have adapted for VIPs, from papers and games to entire adapted spaces like kitchens and daily-life items (kitchen scale, money identifiers). We ended the visit at the café thay have there which is managed by VIP and listened to a choir of 17 people singing Michael Jackson's Heal the World. Truly a wholesome experience to have!
I also started a group French course with Phillipe and I enjoy all my time that I spend at his class with the other students. In the second week of my arrival we had a test and out of the maximum of 40 points, I succeeded in taking 30, which I believe it's a good thing since I knew almost nothing in french. That gives me motivation in learning the language and the energy to pursue this objective.
I look forward to letting you know my next adventures in the months that will come.