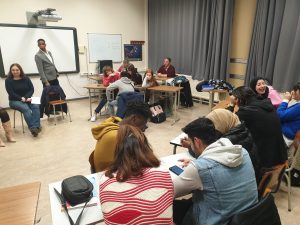 For the last two weeks, we – Jay and Mihai – had carried out activities for and with visually impaired young people. These activities were focused on understanding and raising awareness about young people with visual disabilities.
Together with La Baraka AISBL and Jean Boets Highschool, young people had the opportunity to learn how to write in braille using a special device. They learned how to read several letters in braille and how to write their names. Part of the other activities that took place, young people discovered and experienced how to walk with a white cane while blindfolded, all these being done with assistance.
The preparations for the activities were also challenging because some of the participants spoke Arabic and could not speak neither English nor French, but everything was carried out without a problem thanks to technology and with the help of the people who spoke Arabic and helped with the translation.
Jay is also sharing some of her thoughts regarding the activities:
My role at Baraka is to assist the French teacher in teaching language in a more interactive way, through some playful activities. But among the activities I propose there are occasionally also workshops to raise awareness on visual disability. The latest workshop was Monday 19 December 2022. The subject I wanted to talk about to the students of Baraka was Braille, that is, the writing and reading system used by the blind.

The activity was relatively short but very interesting. We started with an energizer to prepare the students for the activity. After a short presentation on Braille and writing instruments, we started to write their names in Braille.

We then played some board games adapted for people with visual disabilities.

All in all I think the guys had fun and really enjoyed the idea. The activities were well-received and the young people learned about visual disabilities in a non-formal way.
For Views International,
Jay and Mihai