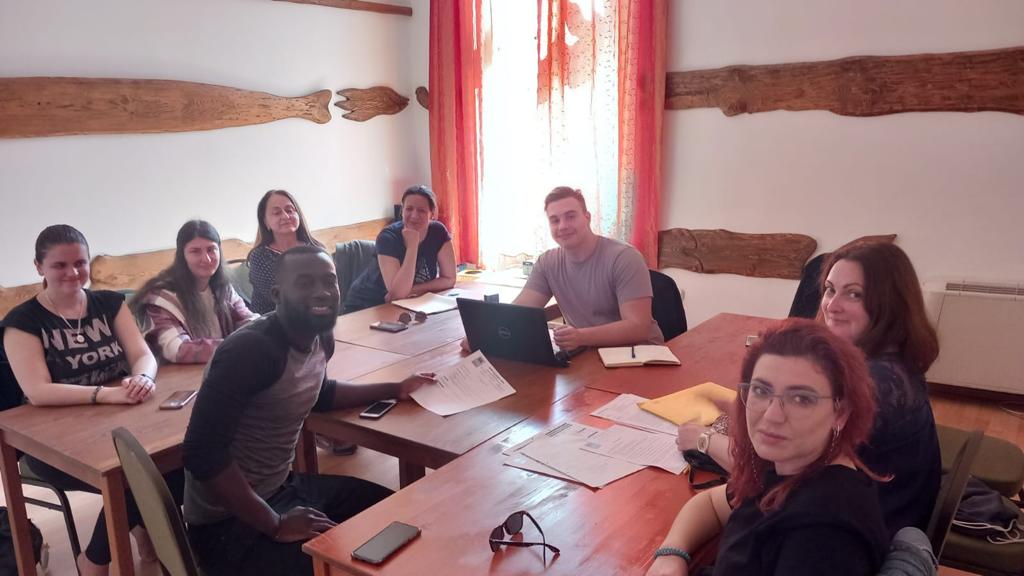 On April 19th and 20th, project teams from Belgium, Hungary, Armenia and Romania had the opportunity to be part of the Advanced Planning Visit (APV) of the Youth Exchange project "Everyone is able to do for green inclusion" in Budapest, Hungary. The meeting was attended by representatives of youth organizations and youth leaders of the partner organizations to discuss the upcoming youth exchange for young people with fewer opportunities, which will take place in May 2023.
First day, April 18th, we checked into our hotel and went out for dinner together, followed by a lovely walk where we had a chance to chat and informally get to know each other.
The next day we met with the host organizations' representatives after figuring out the local public transport. Our plan was to visit the venue where the youth exchange will take place in May, but before that, we sat down to enjoy some ice cream and coffee and introduced ourselves and the organizations we represent to the rest of the group in the beautiful Hungarian sunshine.
Later, we went to the venue, where we toured the facility to ensure it meets the needs of our participant groups. Afterwards, we had lunch at a lovely local restaurant that served delicious food. During the second part of the day we discussed the day-by-day schedule of each day of the youth exchange and shared ideas, roles and responsibilities.
The last day of planning, April 20th, was spent discussing the remaining formalities of the youth exchange like safety and protection of participants, partner agreements, logistics of the youth exchange, dissemination and exploitation of project results, deadlines and practicalities for the following months. After finishing, we also enjoyed some teambuilding moments exploring Budapest's highlights, buying souvenirs and being delighted with the beautiful, sunny weather.
In the evening, we had dinner together for one last time, and the next morning it was time for all of us to depart.
For the majority of the participants, it was a great opportunity to learn and understand how this kind of project is being prepared. We are looking forward to the youth exchange and more adventures to come.