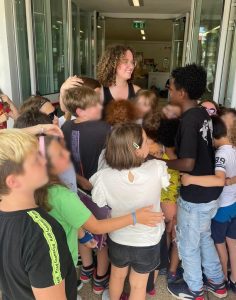 Hello, my name is Zoë and I'm 20. I spent 10 months in Italy with the European Solidarity Corps (ESC). I did my voluntary work at Cooperativa Margherita in Sandrigo, a village near Vicenza in northern Italy. I was looking for a project with activities linked to children and disabled people and I fell in love with my host project.
I started my ESC project in October 2023. In the beginning I stayed in a small flat with 5 other volunteers from Spain, France and Armenia. It was difficult, because I was used to having my own space. Unfortunately, I was in a room with three people. I'm someone who likes to have my little solitary moments. With time and compromise, I got used to it.
I started helping children straight away. I used to help out at an afterschool every afternoon. We did activities, helped them in the canteen and with their homework. When the school year was over, I ran summer courses. I enjoyed myself like a child. I also helped out two mornings a week in a service for disabled people. It's a center where disabled people try to become more independent and aim to live on their own. We did shopping, cooking lessons, language lessons, artistic activities, etc.
Thanks to the Italian lessons I had on Thursday mornings and with practicing with the children, I was soon able to understand Italian. I improved my English thanks to the training I had with the European Solidarity Corps and thanks to the volunteers I lived with.
I slowly began to develop my own habits. Doing my shopping on Sundays as I was tired during the week. On Saturdays I went out. I visited the Venice carnival, Verona and Juliet's balcony, Milan, Turin, Genoa, Trieste and lots of other little villages.
Unfortunately, I found myself in a group of flat mates who didn't share the same interests, so I travelled alone. Two new girls from Greece arrived in June and it was love at first sight. We visited, went out and had a few laughs. It's a shame they didn't arrive sooner.
In difficult times, when I missed my family enormously, I thought of the children I work with, their smiles and their curiosity. I'd arrive at the school gate and they'd run into my arms, "Zoë, where have you been?" or "How do you say Pasta in French? The children would come to me when they had a problem, despite the language barrier, and I realized that I could help them.
The months went by too quickly. I came to the end and it was very difficult to say goodbye to the children, my colleagues and my flat mates.
It's been such an enriching experience that all I can say is "Go for it". I've become autonomous, organized, more independent, I've grown in maturity and I'm proud of myself. I've learnt to have confidence in myself, to know how to work in a team and to assert myself.
I'm going to continue to improve my Italian by taking courses, studying for my driving license, earning money and going away as an au pair to improve my English!
What's next? Going even further, discovering other cultures and languages and meeting new people…