I get the wonderful opportunity to do my job shadowing experience in Liege, from 16/01 to 29/01 in the beautiful city of Liege. Belgium, within Views international. Views international has the aim to support and integrate in the society visually impaired people and it supports them in their independence process.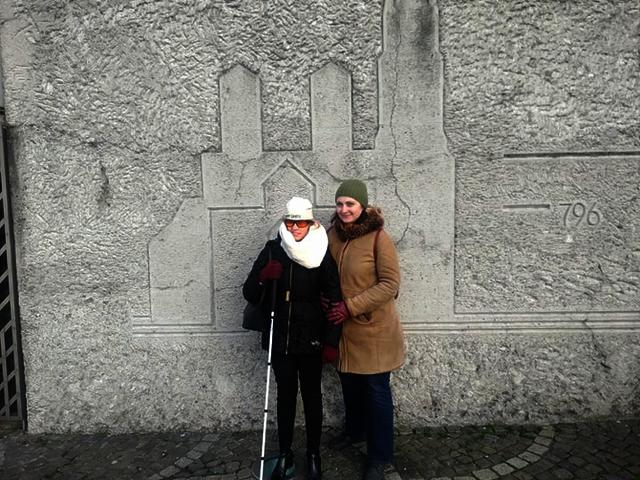 However, the job-shadowing gives the opportunity to motivate people to observe different types of projects that international 
organisation has created in all the globe to increase the participation of young people in the society. I am happy to write this article and to share my amazing experience that I have done in the Beautiful country of Belgium. with everybody. I was very surprised to find around me people who are always ready to help me and are very friendly with me. I would like to give my special and greatful thanks to MS Anca David, she is the chair of Views international. Anca with her Views international team staff made me feel very confortable during my amazing stay.
They made me feel welcome and thanks to their behavior I was able to increare my self-confidence through the solidarity, indipendence values. I was really worried to not be able to move alone around the city of Liege, because in Italy we do not use to do training mobility. In Italy the majority of visually impaired and blind people uses to be accompanied everywhere during their working or schooling day. We are not educated to be independent, because for italian people is not possible to live independently with a several visual limitation. We take little mobility training, we can not use our knowledge arround our ciities, bodied-able people judge us as false blind or visually impaired, it can create high troubles to blind people and visually impaired who wish to live their own life indipendently. I am greatful to Anca, because she arranged many meetings, during which I could exchange my life experience with other participants from a different countries in the world. During that fruitfull meetings i got in touch with other organisations for blind and visually impaired people in Liege, which are very useful because i implemented my technical knowledge about the strategies which can improve the living conditions of blind and visually impaired people in my country. I spent my time learning Franch, mobility and daily life skills. I visited the La Lumiere association for blind and visually impaired people in Liege, I was surprised a lot. I discovered that they have a lot of services that in Italy we do not hav among which, associations buildings, such as equipments shop, ophtalmologist and the psycologist.
I think that for visually impaired and blind people it is really important to get support, in particular for people that do not know their needs, because they became blind or visually impaired during their adult age.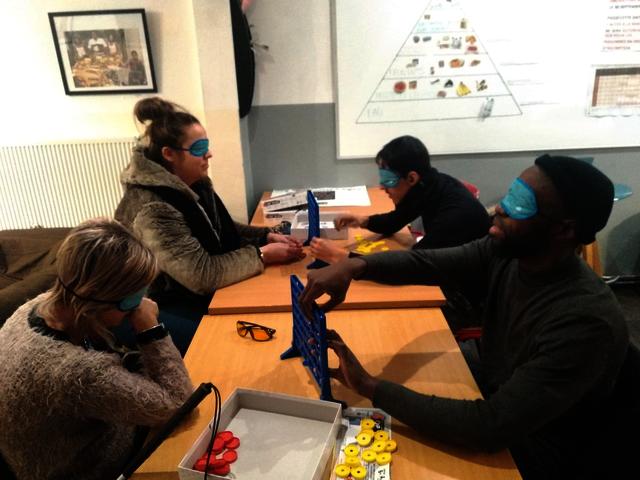 In fact many of them they do not know for example, how to cook in their daily life. For this reason it is important that they will acquire small strategies in order to be indipendent in their daily life. I have joined a very interesting meeting about a new project that Views international is developping together with la Lumiere association: it is a platform that supports blind and visually impaired in the employment searching step. It collects the interprises advertisments which are searching new employees with disabilities. The platform is still in progress. It is very accessible for blind people. My own curiosity is to test its accessibility for visually impaired people that are working with high contrast screen. If it will be necessary I will be very glad to share with Views international my own raccomandation to improve the accessibility of the platform for visually impaired people whome are using high contrast screen with manifier. During my job-shadowing I visited Saint Margherite project coordination. In this project visually impaired and blind people played an important role, they tauch franch to people that come from abroad, and that they do not speak franch language anymore. It was very surprising for me to see the cultural difference and how those people who took part to the course, (young people from 17 to 30 years old), they have a constructive vision of visually impaired people, they understand that they are useful for their personal development. the opportunity to take a language course with them is an opportunity to exchange their own experiences and values. Blind people can help able-bodied people to distroy the language barrier. IN the same project visually impaired people are writing articles in franch for a small newspaper, about the quartiers in Liege. Moreover, visually impaired firstly they interview people about a special topic in Liege. They can register their interviews rather hthan use the collected data to write the article that they share in the next meetings. I get the opportunity to learn a lot about special adaptations, to adopt in the daily life, such as small bottons to put in the kitchen, a useful system to recognize the plate that fires when a person is using it. But for me, it is not necessary to create systems like this, because a visually impaired or blind person can learn thanks to small tricks. This training is done by a person between the Views international team, for the new volonteer of Views international. Another important small training was about the efficiency communication skills: it was done in Franch. For me it was very useful to increase my self confidence and understand my personal needs. It will be useful for everyone who wishs to improve their own relationship in the working place and between their own family and friends relationships. I have the opportunity to get a cultural visit of Liege adaptated for visually and blind people. Itwas very useful for me in order to understand the details of the city without using my limitied visual capacity. I could appreciated details that only with my vision I could not have fully appreciate.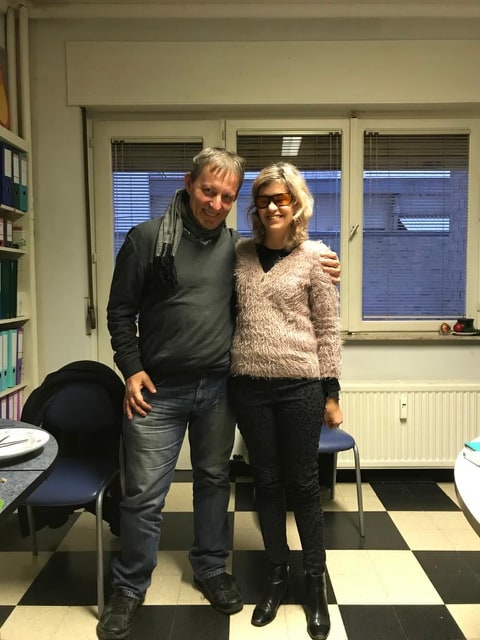 I have visited the "youngh's people house" project: in this project visually impaired people can help sighted young people to do their homework and they could arrange games that are suitable for visually impaired people.
Tghey could arrange also franch courses For them. I stronghly believe that everywhere in the wold we can do more to improve the living conditions of visually impaired people but I could observe with high pleasure that in Belgium visually impaired are not treated as thirth class citizens has in Italy (my country) where, it still happens. I felt very confortable to work with Views International. They gave me a lot of care and attention I have appreciated a lot those details, that are important for everyone. I will reccomand to all yungh people in the world to do an job shadowing experience with Views International. In Italy many of visually impaired people are discouraged to move to another contry due to their disability, but I can ensure you that this experience can have a positive high impact on hour daily life. I am very glad to share my knowledge and experience with Views italia. I wish to thank a lot View Italia for this opportunity. This opportunity gave me the possibility to develop my personal and professional knowledge and experience. I will be very glad to promote this project and share it with other people through social media and face to face. During my job-shadowing I have the oportunity to learn more about working mechanism of Views international. my only negative point is that in my opinion the jobshadowing is too short. I believe that it is necessary at least one month to understaning how it works, to get a climate adaptation. For me it was not the first time that I did a short working experience in Belgium. I went to Brussels for an intenrship at the European Parliament. I worked a lot in the field of disabled people'srights. I hope to continue my hard work in this field to get other opportunities to work abroad. I hope for a long and why not, for a permanent time abroad, maybe in Brussels Or also somewhere else!!