VIEWS International and La Baraka organized a sport weekend in order to integrate visually impaired people in the world of sport. It took place in Brussels between the 22nd and the 24th of April. Four of the eleven participants were blind.
It was a very exciting weekend, with a lot of sport: tandem biking, goalball and bowling. Below you can read how some of the sighted participants enjoyed the event.
We are two perfectly healthy girls. We would like to share our experience during the sports weekend, which took place in Brussels in April. Most of our amazing fellow participants were blind.
We had the opportunity to feel what it is like to be blind, thanks to a few games. We tried to move around blindfolded, just like blind people do on a daily basis. We can assure you, it is more difficult than you can imagine. It's moments like these that makes you realize what a blessing sight is. But I am not critisizing anyone. My sister and I are as guilty as everyone else. That is why we were so happy to be part of this extraordinary event. It has been a real eye-opener for us.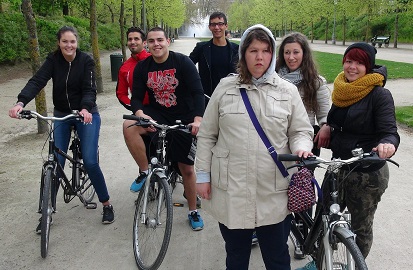 "A driver does not understand the challenges of walking, until he steps out of the car and starts to walk".
Youssra and Soumaya
I was very interested in awareness-raising activities concerning blindness when I first heard of it, but I also had some prejudices about it. I had the idea that visually impaired people always needed someone to assist them in their activities, such as sports or cooking.
Once in Brussels, I met many visually impaired people. Some of them were born with no sight, whereas others had lost it later in life. We spoke about their daily challenges, but also about the fact that they do not necessarily see their disability as a big problem.
Indeed, I was amazed to find out all the things they can do, despite the loss of one sense. Some of them live independently in an apartment and manage to cook without any help, using special devices. Others travel a lot and go to college or university. I also found out that there are some sports specially designed for visually impaired people, and I saw how much they excel in them!
In conclusion, I can say that this activity was really enriching for me: I no longer see visually impaired people as fragile and dependent, but as strong and independent. I enjoyed myself very much and I thank the organizers for telling me about the event.