What is it all about?
The aim of the project Strength through solidarity is to strengthen the capacity of grass root youth organizations working with youths of fewer opportunities (disability) in Poland, Germany, Belgium, Brazil, Uganda, Thailand and India.
Objective of the project:
During the duration of project (January 2016 – September 2017) several type of activities will take place:
Online trainings
Sending and hosting volunteers
Youth Mobility projects
One day conference to present the tools developed during the project
What would we like to achieve?
Training material
The website will depict all training content, related footage and audio material, a forum to allow exchange between website users and information to useful foundations, social entrepreneurs and other social platforms
Project partners:
Fundacja Instytut Rownowagi Spoleczno Ekonomicznej (project coordinator) -Poland
Fundacja SolidarityFilmDoc – Poland
Views International aisbl – Belgium
DBSV – Germany
Thumbs Up Uganda – Uganda
Always Reading Caravan Association – Thailand
Jyothirgamaya Foundation – India
Bats in Action – Morcegos em Ação – Brazil
The project is organised with the support of the Erasmus+ programme of the European Union.
Job shadowing in Thailand​
Sa-wad-dee ka! – my Job Shadowing in Thailand
From March 3rd to April 1st 2017 I got the chance to take part in a job shadowing with the Partner association "Always reading Caravan" in the region of Phrao (Chiang Mai, Thailand).
This job shadowing was part of a larger project called "Strength through Solidarity", a capacity-building project between 8 partner organizations from Europe (Poland, Germany, Belgium), South America (Brazil), Africa (Uganda) and South East Asia (India and Thailand). "Strength through Solidarity" aims to gather experiences and good practices from different associations around the globe, in order to create an online platform with e-courses for associations, youth workers or individuals who want to know more about youth work or about how to improve their motivation, sense of initiative or perspective.
But let's go back to my month abroad, and the exchange of practices and experiences that I had with fellow associations from Northern Thailand. I can only start by saying "khob-kon" (Thai for thank you) to Yoshimi Horiuchi, founder and co-ordinator of my hosting association, for organizing a diverse, rich and exquisite programme of meetings, practical activities and observation.
Being part of the Always Reading Caravan (ARC) team for a month gave me a better insight into the projects that it organises and enabled me to observe its work on a daily basis.
Anca and ARC team in the library
Rang Mai Library is a local library, open every day for people living in the Phrao area. The library's purpose is to make reading accessible to people of all ages. As another means to encourage people to read, ARC added another valuable member to their team: Haruno , a mobile library, with which they organize many reading activities in the surrounding area, mainly for kids. They also provide individual services for readers with fewer opportunities (e.g. due to distance from the urban centres, motor disabilities, etc.): they visit them every two weeks and bring them books, magazines, CDs etc. Furthermore, they set up two early childhood literacy centres: "Sunshine Kids Center", for Akha and Lahu kids, and "Litlle Smiles Center", for Lisu children, targeting hill-tribe populations in remote areas. All of this sounds quite local, doesn't it?
However, since 2014 they've also started a volunteering programme open to international volunteers wanting to get involved in their local projects; Move Lanna, is an amazing self-funded volunteering opportunity for all persons to get involved in local projects in Phrao.
My job shadowing also enabled me to understand and meet other Northern Thai associations from Chiang Rai province/Maesai district, such as "Childlife Ministry and Community Foundation" and "Maesai School for the Blind". The first project targets street children and wants to ensure they get access to education and basic support until they turn 18, whereas Maesai School is one of the 10 private schools for the blind in Thailand; it is still pretty new and it currently only hosts children up to 12 years of age. There are two other public schools and vocational centres for the blind in the country.
The third project I visited, Run Arun Project (Organic farm/Wiang Pa Pao district), also in Northern Thailand, has been run for 20 years by a Japanese lady, Ms. Hozumi Nakano, with the purpose of creating a vocational training centre for young people wanting to learn and practice organic farming and thus strengthen their vocational skills.
One of the major benefits of this job shadowing was that I got to understand how ARC manages fundraising aspects. Actually, ARC relies on private donations, but it uses different strategies to approach and maintain the donors. Of course, there are private clubs like Rotary Club, but ARC has developed different partnerships, mainly with private schools in Bangkok, in order to foster reading and solidarity. For example, it's been partner with the International Australian School from Bangkok for already two years, and kids from this school are engaged in a "Readathon" activity – their families will donate a certain amount of money to the ARC library project depending on how much they read. In turn, ARC runs some awareness-raising sessions about visual impairment, so that kids can discover how blind kids read and write in Braille, and understand concepts such as mobility, white cane, etc.
While I was in Bangkok, two other very interesting meetings took place: one was organized with the Youth Health Foundation, the main purpose of which is ensuring that children from disadvantaged backgrounds have access to reading and leisure time activities. The other meeting was with the Thai National Institute for the Blind, a national association with branches in all the 76 provinces of Thailand. The Institute also runs a school for the blind in Northern Thailand and several vocational training centers (e.g. physiotherapist, carpenter, office manager, etc.). Furthermore, the Institute runs a library for the blind in Bangkok, which has the amazing peculiarity that members can also listen to audio books on their phone, just by calling a free number. The Institute also manages projects supported by the Thai government, especially those related to law regulations for blind and partially sighted people.
As I said in the beginning, this job shadowing aimed to facilitate the exchange of good practices and reinforce local youth work. Together with the ARC team, we prepared and ran a half-day training course for reference persons (teachers) to host foreign volunteers in their institutions. The training focused on concepts such as volunteering, intercultural communication and promotion of our online training course platform, which will be !ready soon.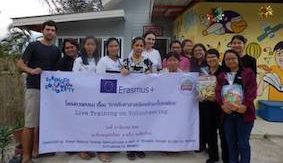 People present at the training
Of course, I also had the opportunity to discover and enjoy the Thai cuisine, nice landscapes and some sightseeing both in the Chiang Mai region and in Bangkok. And, above all, I had the chance to appreciate Thai smiles and kindness.
This job shadowing was really a unique experience and this is just the beginning of new collaborations for Views International in the coming years!
Tiffany's job shadowing in Liège
I got the wonderful opportunity to do a job shadowing from 02-05 to 02-06 in the cool city of Liège in Belgium, at a well-known international organization, VIEWS International, which stands for Visually Impaired Education and Work Support International.
This job shadowing was part of a larger project called "Strength through Solidarity", a capacity-building project between 8 partner organizations from Europe (Poland, Germany and Belgium), South America (Brazil), Africa (Uganda) and South East Asia (India and Thailand). "Strength through Solidarity" aims to gather experiences and good practices from different associations around the globe, in order to create an online platform with e-courses for associations, youth workers or individuals who want to know more about youth work or about how to improve their inner motivation, sense of initiative or perspective.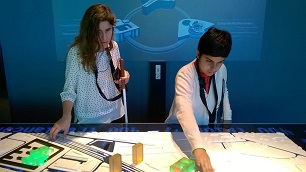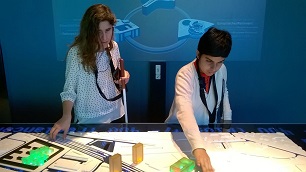 I would now like to share with you all my memorable and amazing experiences in this beautiful country, with an abundance of accessibility for persons with disabilities and of friendly people always ready to help!
I would like to extend my warmest thanks and appreciation to Ms. Anca David, the director of VIEWS International, which was my hosting organisation, and to all her dedicated team members, who have made my stay here simply amazing!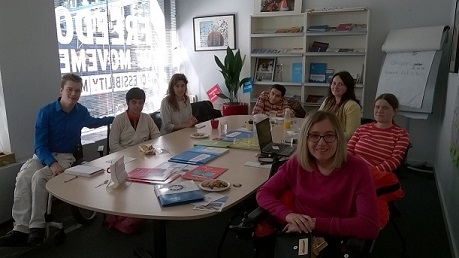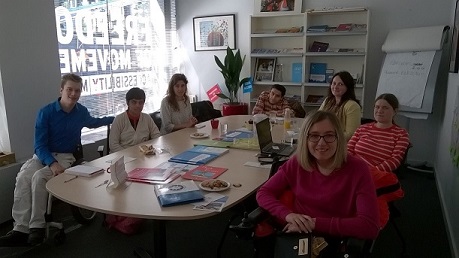 At first, I felt I would not be able to cope with the extremely different culture. However, to my utmost surprise and delight, I managed to fit in quite well, and was even able to travel by myself around Liège! Working closely with the Views team gave me a deeper insight into the basic day-to-day functioning of the organisation, and taught me how to run my organisation in a more proficient manner, given the Indian limitations with regards to proper accessibility.
I am also grateful to my host Anca for having organised many fruitful meetings and exchanges with other organisations for the blind, which have enriched me with new ideas to implement many new techniques in my country, for the improvement of the lives of persons with visual impairment.
I spent the first week learning mobility, French and daily-living skills, and getting used to the place and the different culture. In the second week, I visited the Parlamentarium in Brussels, which was yet another surprise: everything was extremely accessible, with audioguides describing what was around and tactile maps of the main buildings. For once, sightseeing visits did not seem boring to me, as I could actively participate.
Clara (EVS volunteer) and Tiffany touching a model of Luxembourg European Parliament Headquarters during the Visit of Parlamentarium
I was then taken by my hostess to visit two distinguished organisations, the European Disability Forum (EDF) and the European Network for Independent Living (ENIL), where I learned about their work and how they strive to promote the rights of persons with disabilities and enhance their independent living.
Meeting room with representatives of ENIL, EDF, Views International & Tiffany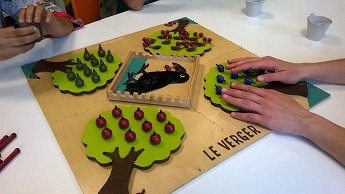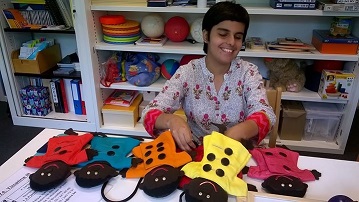 Another project I visited was the Socio-Cultural Association, which promotes youth work and French learning for immigrants.
Our next visit was more lively, with many new discoveries: we visited the toy library of the National Association for the Blind (ONA), where I was delighted to see the time, effort and creativity put into each adapted game. And I realised that, here in Europe, visually impaired persons are not treated as third-class citizens, like in many developing countries, but as equals. This warmed my heart and filled me with determination to observe everything closely and try to implement at least some of it in India.
Adapted game for Visually impaired / Tiffany touching the Braille puppets
Tiffany, Tom, Laurent (from ONA), Clara and Anca playing "Troc Sushi"
Adapted game for Visually impaired / Tiffany touching the Braille puppets
Tiffany, Tom, Laurent (from ONA), Clara and Anca playing "Troc Sushi"
Our first life training, combined with a tea in the dark, took place in Liège. It did not only raise awareness among the present about the world of the blind, but also facilitated the intercultural dialogue between all participants.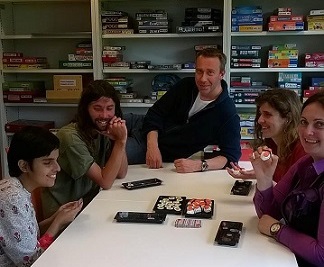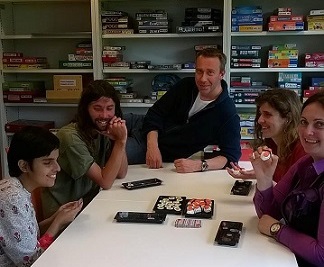 During my job shadowing, I also got the opportunity to learn more about the work done at Views international: the youth mobilisation and the organisation of meetings between European young blind people, providing them with a platform to exchange ideas and better themselves.
I also got to learn a lot about the European Voluntary Service, which is in my opinion the best option for a blind person. Indeed, with EVS he/she gets the opportunity to explore a different country and culture, as well as to improve his/her independent living skills and get rid of his/her fears and inhibitions.
Tiffany and Martine from La Lumière
My job shadowing here has enriched me with a lot of ideas. I also got the opportunity to visit La Lumière, an association in Liège which organizes a wide range of activities for the blind and gives them the opportunity to explore their inner potential. When I saw blind men equally interested in cooking, I was utterly surprised!
At La Lumière, blind people learn many interesting and productive things, such as paper making, IT, Braille, low vision unit, pottery unit, cooking unit with adapted materials, an adapted mobility ground, an adapted gym, and much more!
We also got the opportunity to conduct two more life trainings, one in Brussels and one in Leuven. The one in Brussels targeted both sighted and blind people and was about disability awareness and intercultural communication. The participants were very interested in the topics and extremely lively.
Image during the life TC in Brussels, while participants sit around the table and discuss
The third life training was in Leuven and targeted only blind people, the majority of whom were in the executive board of ICC Belgium, an organisation which aims to improve blind youngsters' social and technological skills. Our training included some good discussions on disabilities and intercultural communication.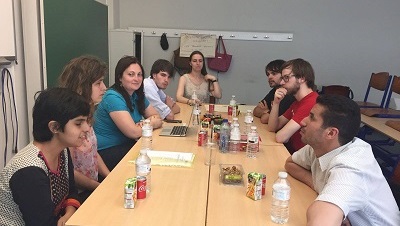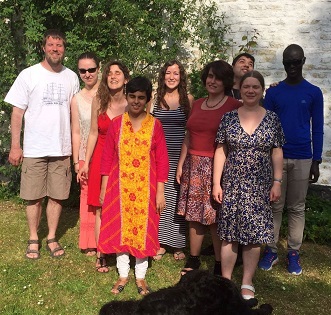 Image with the group of participants after the life TC in Leuven
I would like to thank Joyce, Anca, Clara and Theo for the vital role they played in organizing the logistics and facilitating the training.
We also got the opportunity to visit the primary and secondary schools for the blind, which gave me a deeper insight into how blind children study in Europe and how accessible materials are. And, to my utmost surprise, I met a Pakistani student, who was in Belgium with her parents and was working hard at the school.
Image with IRHOV primary school teachers and Tiffany in a classroom
Here, like in La Lumière, girls and boys were taught equal skills with equal importance!
As I already mentioned, this job shadowing was an eye-opener for me, and paved the way for me to build my organisation Jyothirgamaya to a higher level. It stimulated me to dream big and think high!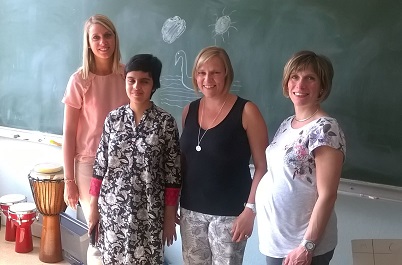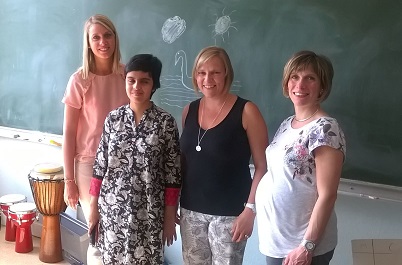 Our life trainings focused on subjects like disability awareness and intercultural communication. They also concentrated on the promotion of the "Strength Through Solidarity" online platform, which will be ready soon!
Thank you, Anca, Views, and all the great people I met in Europe, for making me think that life for the blind is worth living and can be fun and very resourceful too!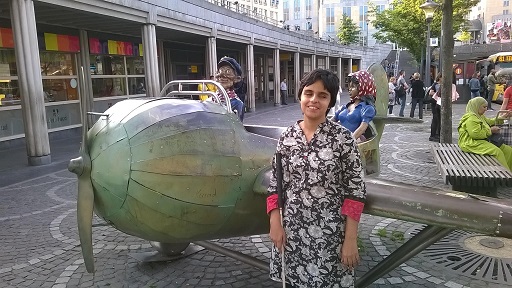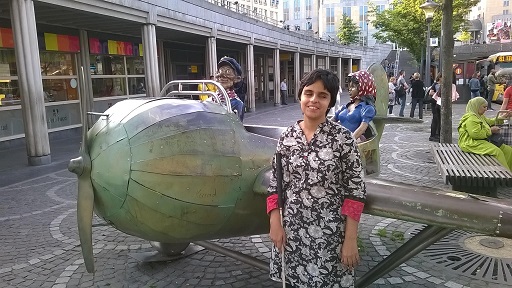 Corto
Corto smiling with a glass of beer
Corto from Toulouse, France, is 29 years old and partially sighted. He has studied history in university and has previously studied abroad in the UK and participated in a project helping develop the local area in Sinegal.. While he is in Belgium he will volunteer at IRHOV, the school for blind and deaf children in Liege, supporting the students in their lessons and assisting with mobility and braille sessions. Corto is writing about his EVS experience and hopes to produce a book at the end of his project.
Two weeks in Poland, two weeks of learning and making friends from all over the world. Eight different non-profit organizations came to Gdansk to share their knowledge. Strength through solidarity was a great experience for me.
We started with ice-breakers. In a group of only 30 people, you had the chance to get to meet everyone. We went to explore the city of Gdansk, a very nice harbor city with plenty of tactile models of buildings, designed specially for the blind.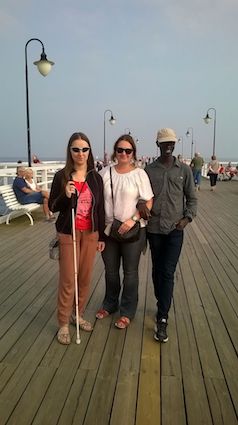 After the weekend, we began with the workshops. The first week we learned about resumé development, peer support, intercultural communication and volunteering. Everything was very interesting, and they used such a variety of methods that it never became boring. Every evening, a group presented their country with a quiz, some music, traditional clothes, a language course, local food or any other creative entertainment they could think of. The participating countries were Poland, Belgium, Germany, Brazil, Uganda, Thailand and India.
After the first week, we met with several local ngo's and everyone presented their organization. Afterwards, the weekend started. This time, everyone went to their own Polish host family, where we could experience the everyday life of a Polish family. I had an amazing host and I'm sure that many people will stay in touch with their host families, just like me.
During the last week we had workshops about advocacy, fundraising, empowerment and sustainability. We also learned how to work with the strength through solidarity website, as the project is not over yet: we will stay active online.
I learned a lot thanks to this project, both inside and outside the workshops. I've met fantastic people who spend their lives striving to make this world a better place. I'm really looking forward to the next step of the project, because the world is still far from perfect.
Strength Through Solidarity's life trainings​
Between the 12th of May and the 20th of June, VIEWS Internationalhasco-ordinated the organization of five life training in four different Belgian cities. The training addressed various topics (intercultural communication, empowerment etc.) and was organized in the framework of the "Strength Through Solidarity" project, which we have already told you about in previous issues of the newsletter.
The training was generally very well-received by the participants and gave rise to extremely interesting and fruitful discussions.
Between the 12th of May and the 20th of June, VIEWS International co-ordinated the organization of five life training in four different Belgian cities. The training addressed various topics (intercultural communication, empowerment etc.) and was organized in the framework of the "Strength Through Solidarity" project
Liège
Picture with the group of participants at the 1st life TC in Liège
The first life training organized in the framework of the Strength Through Solidarity project took place in Liège on Friday, the 12th of May. It focused on disability awareness and intercultural learning and was held entirely in the dark. The 10 participants were mostly sighted (only two were visually impaired) and had never met before… or so they thought! Two of them actually had, but it took them a long time to realize it, as they only heard each other's voices throughout the whole training. The age varied a lot as well: the youngest participant was only 12, the oldest 50. All participants were Belgian, except for one who came from India.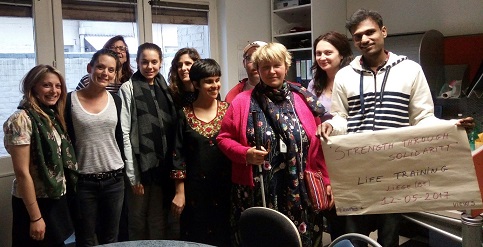 After some ice-breaking games, where participants introduced themselves and tried to guess where the others came from based on their accent, they were divided into groups and had to invent stories using some tactile words (which they found very difficult to decipher). The tea break was also performed in the dark, but luckily there were no major catastrophes (coffee was spilled only once!).
After the break, the organizers addressed the subject of intercultural dialogue: they read some controversial statements dealing with culture and stereotypes, and participants had to say whether they agreed or disagreed. For example, one of the statements was: "women's job is to stay at home and take care of their husband and children". The statements gave rise to a very fruitful and lively debate, which lasted for almost an hour! What made everything even more intercultural was the fact that the organizers had to translate back and forth between English and French, as some participants spoke only one or the other language.
Brussels
The second training took place in Brussels on Friday, the 26th of May. There were 4 participants, 2 sighted and 2 visually impaired, all in their twenties and from Belgium. Just like the previous one, this training focused on disability awareness and intercultural communication.
The first part of the training concentrated on disability: after a brainstorming to try and define what disability actually means, the participants were asked to reflect on the difference between empathy and sympathy, two completely opposite feelings which lead to completely opposite approaches. Afterwards, the organizers performed some roleplays about disability, and asked participants to get involved and try to change what they had found out of place. This gave rise to a very interesting discussion, especially because the two sighted participants were quite new to disability and were very receptive and curious.`
After the tea break, some stereotypes about disability were discussed, and then the focus shifted to intercultural communication: like in the previous training, the organizers read some cultural statements, which sparked off a very interesting debate. Afterwards, one of the organizers explained some theories related to intercultural communication, and the rest of the time was used for questions and feedback.
Leuven
The third training took place the day after (27th May) in Leuven. This time, all 5 participants were visually impaired, in their twenties and thirties, and mostly engaged in the organization of the ICC (International Camp on Computer and Communication), which will be held in the same city at the end of July 2017. The topic of the training was intercultural communication.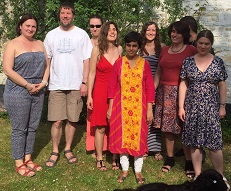 After the usual introduction and presentation of the STS project, participants had a brainstorming on the definition of culture, an umbrella term which entails a lot more. Afterwards, one of the organizers explained the concept of culture as an iceberg, providing a lot of fitting examples and asking participants to find some more. It was then time for a very interesting game, where letters were used instead of cards: participants were given a letter and had to say a word related to culture. That gave rise to a very interesting conversation, where participants discussed what that specific concept meant in their own culture. It is worth noting that both organizers and participants came from different countries (India, Romania, Italy, Greece, Rwanda and Belgium), which made the whole thing even more interesting.
Following the tea break, one of the organizers explained the different typologies of culture, with some examples. And then, the subject of cultural misunderstandings was broached: the organizers gave some examples of situations where people misunderstand each other because of their different culture, and a fruitful debate followed. As it was a very sunny day, the last part of the training unfolded in the terrace!
Mons
The fourth training took place in Mons on Sunday, the 4th of June. The 4 participants were equally divided between sighted and visually impaired and were all in their twenties. The training was about empowering oneself and his community.
After the usual introduction, participants had a brainstorming about the definition of empowerment: it is a word that can have many different nuances, and defining it is harder than it seems. Afterwards, participants talked about their personal experiences concerning empowerment, which resulted in very interesting and inspiring stories.
Following a coffee break, one of the organizers talked about the evolution of empowerment in different societies. Participants were extremely interested and responsive, as some information was new to them. The training ended with an interesting debate and feedback.
Liège
The last training was held in Liège on Tuesday, the 20th of June. This time, the target group was very clearly defined: participants were mostly teachers of French as a foreign language, or, even when they weren't, they still worked in the field of teaching in schools for immigrants. Eight people took part, and they were all sighted. The training focused on disability awareness and volunteering.
After a presentation of the STS platform, the organizers gave a short explanation about EVS (European Voluntary Service) and, in particular, about the adapted EVS which is organized by VIEWS International every year. In this respect, Clara and Theo, who both profited from this amazing opportunity (Theo in Murcia, Clara in Liège) gave an account of their experiences, with special focus on the challenges they had to face because of their visual impairment. Participants were very interested and asked a lot of questions and were handed out a sheet about EVS.
Afterwards, the organizers focused on the topic of integration despite disability: through three short roleplays, they presented participants with some daily situations where disability is not handled in the best of manners, mostly because of lack of experience of the non-disabled: for example, when a blind person is on the bus with a friend, and someone addresses the latter to make the blind person sit, ignoring his repeated refusals. The roleplays gave rise to a very fruitful debate, as the participants didn't have much experience with blind people themselves and were amazed at how impolite and clumsy you can be without even knowing!
After the coffee break, a team building game was played: participants were divided into two groups and had to build a house using only paper, Sellotape and some other basic material. Half of the people in every group were blindfolded, which meant that the sighted ones had to describe and show things properly, in order for them to actively participate. The atmosphere was really cheerful and lively and both groups had a lot of fun. The training ended with a short discussion on how the blindfolded people had felt during the game, and everybody left with a lot of enthusiasm and new knowledge.
Conclusion
All in all, the 5 life trainings were very successful: in the evaluation questionnaires they were asked to fill in, participants gave really positive feedback, as proven by the fact that the answers "very low" and "low" were hardly ever used. That's a clear sign that the trainings were going in the right direction, and that some more should definitely be organized in the future!
A group from VIEWS International travelled to Uganda this summer in order to take part in the "Strength through solidarity" (STS) project evaluation meeting. Our team included Anca, Corentin, Joyce, Sam and Theo, and the meeting took place from 7th to 14th August 2017.
There were two main goals for the STS project; the first being to enhance the capacity of grass-root youth organizations working with disadvantaged young people with disabilities in Belgium, Brazil, Congo, Germany, India, Kenya, Poland, Rwanda Thailand and Uganda. The second was to create a website that members from all the organizations could use to share their knowledge and expertise about volunteering, running an NGO and getting more people involved in making change. The aim of this was to give the young people the tools and skills to develop themselves and grow their organizations. This evaluation meeting was the last step of the project and was a valuable opportunity to see friends from previous meetings and reinforce the links between us and once again to share a very good time together.
orphans, street children, refugees and other disadvantaged youth in Uganda to become job creators and social entrepreneurs. This facility was located in a beautiful area with quite an unusual landscape for Europeans like us. The accommodation was also quite unusual. It was not a five-star hotel and sometimes it could be challenging being without hot water,, showers or running water. The organizer and the people from SINA were able to adapt this open area to make it more accessible for the visually impaired and blind members of the group.
In addition to the activities related to the evaluation process we also visited several local associations, a natural reserve and had a conference in the Landstar a hotel in Kampala. The Uganda national television and radio station were present at the conference which was called "Grassroot Changemakers & Innovators Summit". This was a big moment for us as it was the time when we could communicate about the project, its conclusions and ideas. Also present were people representing the Ugandan government, other local associations and anybody interested by the project. We had several debates together and in smaller groups.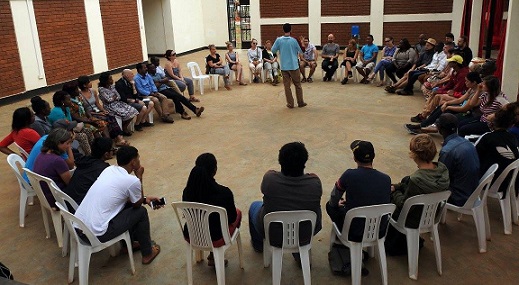 Our visit to the natural reserve was more for fun . For most of us it was our first experience of an equatorial forest, it was stunning. We also had several games in the forest for team building and to help us understand the difficulties for visually impaired and blind people to walk in that kind of environment.
They were all very enriching experiences for all of us, especially the visit to the local association. All this time in Kampala also showed us how big and how crowded this city is. The smallest journey could take hours due to the endless traffic jams that occur in Kampala and we spent a lot of time in the taxi-bus.
In conclusion, this adventure was vastly rewarding for all of us for a number of reasons; for what we learned about the African culture and lifestyle,, for the knowledge we gained about how NGO's and associations around the world work, but especially for all the friends that we made.