Each year VIEWS International sends one visually impaired young person from Belgium to complete an EVS (European Voluntary Service) project abroad.
This year, our EVS volunteer is called Julian and he will be volunteering in Murcia, Spain for six months.
Click on the links to find out information and updates about his EVS experience.
Advanced Planning Visit for Julien's EVS project in Murcia (Spain) ​
Julien, a Belgian young visually impaired person from Liege, will soon begin his six-month-long EVS project in Murcia, Spain. As with all adapted EVS projects, Julien had the chance to attend an advanced planning visit before he officially starts his project so that he can become familiar with his new home. Anca accompanied Julien for the APV and tells us what it involved.
The Advanced Planning Visit took place between February 18th till February 21st 2018. Julien had the chance to meet with his fellow volunteer, Piotr from Poland, and to get to know the environment of their future EVS project.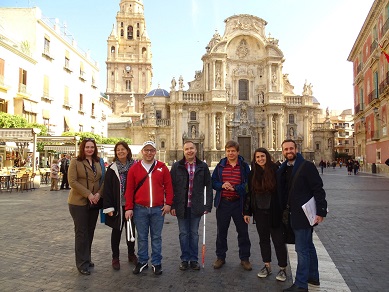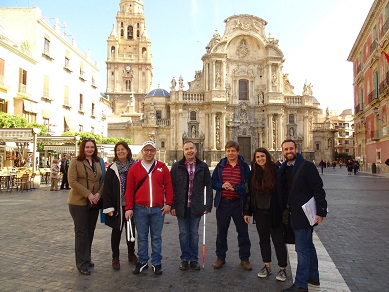 They had a presentation from the hosting institution, the City Council of Murcia – Youth Department, they met with their future colleagues and their mentors, they met with the team of visual impairment specialists from ONCE office in Murcia and explored around the old city centre. They also had the chance to get acquainted with their accommodation for the duration of their project, and of course enjoyed some delicious local food 🙂
Following this visit Julien feels a lot more confident and motivated to take part in his 6 months EVS project.
Let's wish him good luck and we wait to hear from him about his progress as soon as possible.
Presentation of my EVS and my impressions
My EVS started on October 15, 2018, so it's been four months now. The first two months were very hard because I did not speak Spanish and I had trouble finding my bearings.
From the second week I went to the training of arrival in Oviedo in the north of Spain, it was very complicated because I did not understand many things in addition to the fact that the training was very tiring.
The good news is that I have met a lot of people, about 20.
When I got back from that training, I started the project. The administrative level was very complicated especially to open a bank account because I had not been warned about the need for a passport. However after negotiating with the bank they agreed to open an account for me and I finally got my money.
My voluntary activities began in November; we created the first video to advertise EVS. In addition, we presented the EVS programme to associations of people with reduced mobility.
I also participate in language clubs and radio classes with people with mental health issues. At first I started with language clubs in English and French, but as my English level is not very good, it was replaced by French and Spanish tandems. It took a long time to get them because I had to insist several times and time goes by too fast, we were already in the Christmas period before everything was put in place properly.
I continue to participate in French language clubs with people between 22 and 37, and another group of children between 12 and 14, they are approximately 20. The course takes place on Friday afternoon from 5 pm to 7 pm by consequence they are all tired and do nothing.
Murcia's youth service asked me if I could animate even once the French course with senior citizens, which I accepted. So I had the opportunity to realize it for the first time in my life.
At the end of January, the second compulsory training in Mollina, is 65 km from Malaga. It was 1000 times more pleasant than the first because I understood much more and it was less tiring. I've been able to meet many more people.
Thanks to my Spanish level which has improved greatly since the beginning of the adventure I can now visit many more regions in Spain.
During my free time I travel a lot, I drink (drinks), eat good tapas with people I met in Murcia, I go to the pool once a week and I go to the cecifoot B2, B3 on Sunday when it is organized. On Mondays I go to a bar with tables of conversations, there are French, Spanish, English, Italian and German.
Today we still have a lot of things to do: we still have to make two videos, a recording on the radio and also advance in my project with which I am busy to put in place for April 3. This project is a goalball demonstration at the University of Murcia and I also realize a power point with different activities for visually impaired people.
Conclusion:
After the first two complicated months, today I feel very good and I don't see the time passing because we have a lot of things to do and we always have to claim and wait a long time to get the different things as well as to put them in place but they don't realize that six months is very short and that it passes quickly.
When I have to work with a team it is not always easy because I am a very organized person and my volunteer colleague does not respect the hours, etc. so it is hard to agree on the work.
Finally I would like to find another volunteering abroad because I would like to continue learning the Spanish language because it is a very beautiful language.
Exciting First Trip to Murcia Spain​
My Advanced Planning Visit (APV) for Erasmus + in Murcia took place from the 24th to the 27th of September in 2018.
I was accompanied on that journey by Anca who was there as my guide. When we arrived we first met my colleague with whom I work together on this six month lasting project. Her first name is Camilla and she comes from Poland. We lodged in a beautiful hotel in the city center. On Tuesday we met the persons in charge of the project, who introduced the project to us. In the late afternoon Pedro our local guide showed us the city. In the evening I met with Ana Cristina, a Spanish girl who made her EVS in Liège. I asked her to help me a bit with the Spanish language.
On Wednesday we both signed the contract. Then we got to know my office and they informed us on their various services to help young people. We went back on Thursday. But because our flight got canceled Anca and I had to stay a night in Madrid.
I consider this project to be quite exciting even so my level of aprahantion and stress got higher the longer our visit lasted. But also my pride got activated for I had managed anything I started in life so far. Now I have six months time to see whether this project is successful or not. In any case I can say, that Murcia is quite an open and nice city.
Julian, a partially sighted young man from Belgium, started his adapted European Voluntary Service Project in Murcia back in March 2018.
Before starting his project, Julian had the opportunity to attend an advanced placement visit so as to familiarise himself with his hosting organisation and project before he officially arrived. Click here to read all about Julian's APV.
By now, Julian is mid-way through his six-month placement and having a fantastic time.
His project involves working as a volunteer for the city council of Murcia, informing local young people with disabilities or otherwise have fewer opportunities, about the different possibilities and projects available within the framework of Erasmus+. He works 35 hours a week doing this work along with another adapted EVS volunteer, as well as also assisting with French lessons at a local language centre.
Julian has been finding his work very interesting and enjoys being able to work with a range of different people.
Something the Julian has found very useful was the mobility training provided around Murcia when he first arrived. He said that at first, moving to a completely unfamiliar place was a little overwhelming, but now that he has received one-to-one sessions with a volunteer, he feels much more confident navigating the city and using public transport to get around.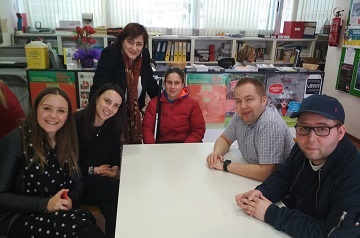 Julian has been learning Spanish before and during his project. He does this by using the Erasmus+ online platform, but he also receives one-to-one lessons with a teacher each week.
He has found both of these resources very helpful and is glad that the EVS is giving him this valuable skill of learning a new language.
He has also been enjoying the beautiful Spanish weather and he finds the local people extremely friendly. One of his highlights so far has been a visit to the nearby city of Alicante.
Julian commented that even though he is only half-way through his project, he already knows that his EVS experience is life-changing and will benefit him in so many ways in the future. Not only becoming fluent in another language but giving him valuable professional experience as well and an opportunity to improve his IT skills for using assistive technology.
Want to take part in an adapted EVS project?
If you are interested in participating in this adapted EVS project in Murcia, please send your CV and a motivation letter to office@viewsinternational.eu before 15/07/2018 or call the office on +3243753520 for more information.