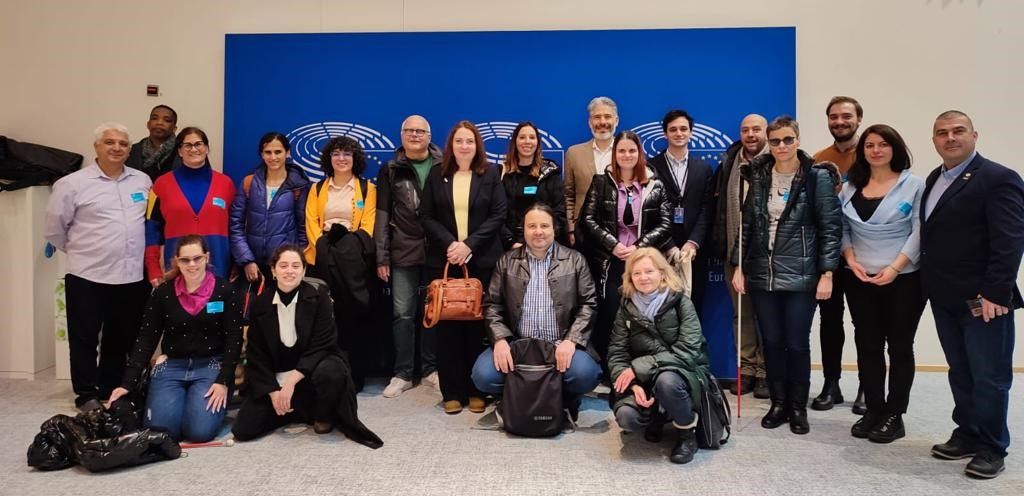 Vip Tech Job: Time 2 Act! Multiplier Event
Being the last international event of the project, the Multiplier Event took place in the European Parliament, in Brussels, Belgium. At the event were present more than 50 persons which participated in the presentation of the project's results. Being an international event, people from different countries participated at the event, from which we remind: Belgium, Spain, Italy, Greece, Germany, Romania, Lithuania and Poland.
Over the past two years, our Vip-Tech-Job: Time 2 Act! project has not only focused on developing the required project outcomes but has been actively involved in creating a remarkable network to foster the inclusion of people with visual disabilities in the job market.
How was this possible?
You might think that it was achievable solely because of the expertise of partner organizations from Belgium, Greece, Italy and Spain…but that would exclude a really important part of our work.
Which one?
The willingness to engage with all our strength to create a more inclusive and accessible world. Vip-Tech-Job: Time 2 Act! would not be what it is without the perseverance, commitment and enthusiasm that the people involved in this project have shown day after day.
On March 9th, our Vip-Tech-Job: Time 2 Act! project made its way to the European Parliament through the Final Multiplier Event.
It was a really important opportunity to present the project results and to recap the steps taken over the past two years.
More than 50 people attended the event and had the opportunity to ask questions about how the planned outcomes were achieved and what the concrete impact of our work will be.
It was interesting to be able to share with the audience the path that led us to the completion of the project results and the importance of being able to be supported by a passionate and committed partnership.
From the beginning, our goal was to engage, connect and empower as many people as possible so that VTJ2 could truly generate positive change in society.
During the panel discussion ("How could the EU promote the inclusion of young people with disabilities in the job market? > The case of visually impaired and blind people") at the European Parliament, one of our VIP speakers shared her personal motto:
"Do not be afraid to dare!"
Vip-Tech-Job: Time 2 Act! is grateful to rely on people who are willing to break down existing barriers and raise their voices to create a fairer world.
Check our website and learn more about VTJ2: https://www.viptechjob.eu/