What's a Feasibility Visit?
During 1 or 2 days, different partners can meet together to develop their cooperation or to prepare a common project (youth exchange, youth initiative, …): each partner can send 1 or 2 participants (a youth worker and a young participant).
Our partner organised already some Feasibility Visits in order to set up their future project.
2004
Poland, Slovenia, Spain, Italia, Poland, United Kingdom, France, Belgium, Romania meet in Liège during 2 days to organise the 1st VIEWS youth exchange in Belgium (Louvain-la-Neuve) directed by Béatrice.
2005
2 young European volunteers from Romania, Loredana and Anca, will prepare a second youth exchange in Louvain-la-Neuve, with Béatrice. The feasability visit will meet in Louvain-la-Neuve the same partners than in 2004, to develop the cooperation.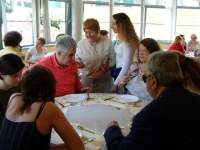 2006
During 1 year, Loredana , Anca and Béatrice prepared a network with the VIEWS partners to organise European Voluntary Services adapted for blind or hardly visually impaired people. In the continuation of their past experiences with Anca, Loredana and Verity, as volunteers, they propose some accomodations to the voluntary service. They also created a local of 8 hosting associations. So, the future volunteers will have a choice. The feasability visit will meet in Liège the hosting and sending organisations; they will vote the proposed accomodations for the future European Voluntary Services in Liège.
2008
Polish Association of the Blinds proposes to VIEWS to enlarge the public of the youth exchanges to the young people with associated handicaps. With VIEWS and a 3d partner from Italia, they organise a feasability in Warsaw to verificate the feasability of this project. This needs new conditions: buildings, sportive structures, accompainment, buses. …