APV's 2019 - Roxana and Kuba
In July, we had the pleasure of hosting the Advance Planning Visits (APV's) for the volunteers who will participate in the European Solidarity Corps projects 2019-2020.
What is the Advanced Planning Visit?
The APV is a truly valuable opportunity for our blind and partially sighted volunteers to familiarise themselves with their hosting and coordinating associations and to explore the city where they will live for nine months. We feel it is especially important for blind and partially sighted volunteers to have this opportunity, as they might not benefit from visual things like maps and photos.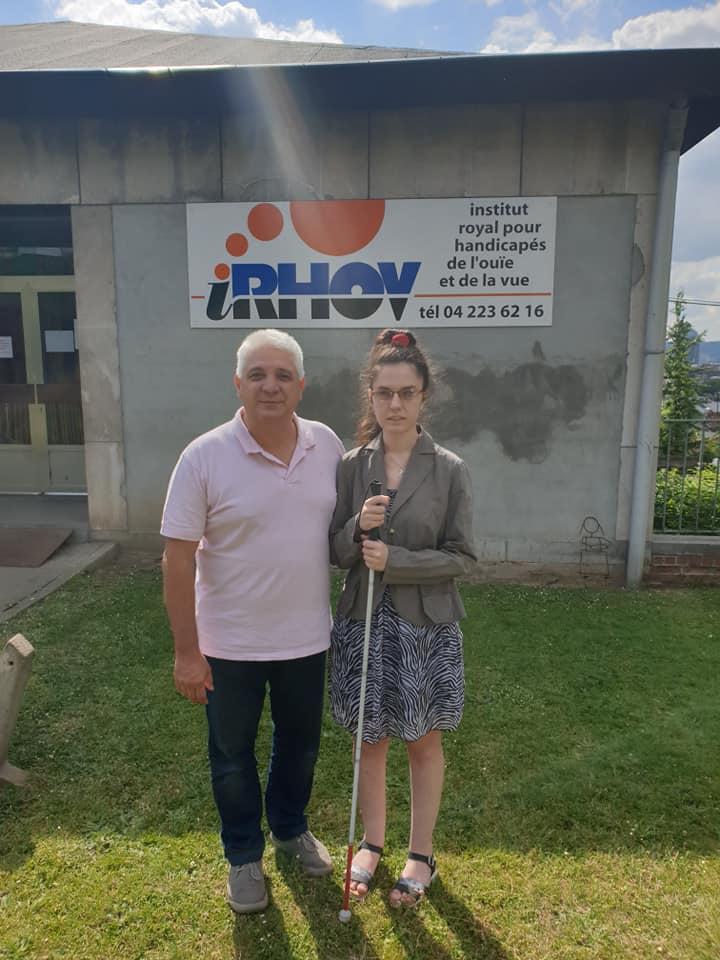 What did the APV's involve?
The two future volunteers, Roxana from Romania and Kuba from Poland, were all accompanied by a representative from their sending associations
 and spent two days in Liege meeting with their mentors, many VIEWS volunteers and of course their hosting associations where they will be working.
Roxana, accompanied by Adrian from Sakura Romania stayed in the EVS apartment between the 1st and 4th of July and visited IRHOV (primary and secondary), the school where she will be volunteering for her project.
Kuba, accompanied by Ania from Polish Association of the Blind, stayed with us from Monday the 15th of July until Thursday 18th.
Kuba spent a lot of time at the VIEWS office as he will be volunteering there, managing the newsletter and online communications. He also met with La Baraka, as Kuba's project will also include weekly volunteering there coordinating activities for the young people.
The APV's also included meetings with:
a French teacher who will provide one-to-one adapted language lessons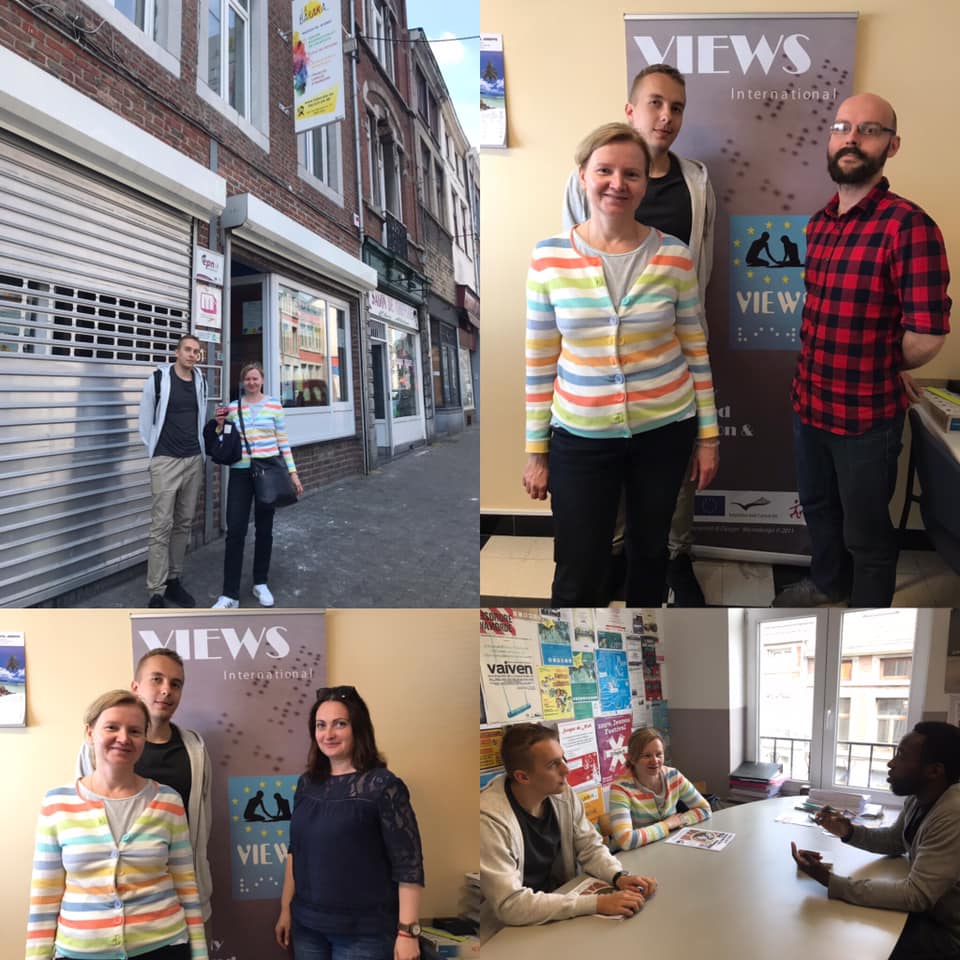 a volunteer who will provide one-to-one mobility lessons
a volunteer who will support them with daily living skills
Staff and volunteers from VIEWS International, their coordinating association
We were very happy to meet Roxana and Kuba and we look forward to welcoming them back to Liege mid-September 2019 for their 9 months volunteering projects.
With the support of the European Solidarity Corpsprogramme of the European Union
First days in Liege - Roxana and Kuba
Hi, I'm Jakub the new ESC volunteer (European Solidarity Corps) at VIEWS office. Together with Roxana, the second volunteer, we started our ESC project on September 16th. Our first two weeks were busy, but spent in a friendly and cheerful atmosphere and this is how our first days looked like.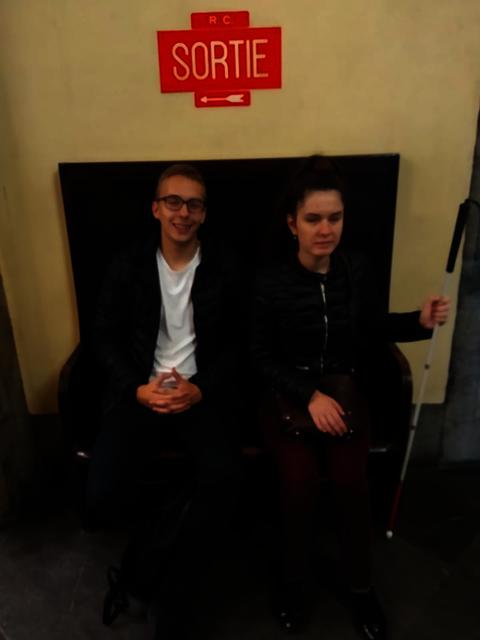 After we've got in the flat, we were welcomed by Tamara, who is helping us with our daily living skills. The next morning, we met Corentin, who is responsible for administrative matters at the place where we living.
He explained us the rules and useful information about our apartment. After this meeting we went with Anca (our project coordinator) to the City Hall to register us in Belgium. On the third day we met Carine (our mobility instructor) and Philippe (our French teacher) and we started increase our autonomy, discover the city and improve our French skills. The week finished with Anca and Sylvie's (Sylvie is also part of VIEWS team) visit, for our first induction session. It was a very interesting and inspiring conversation about our projects, objectives and expectations.
The second preparatory week started with the visit of historical center of Liege; accompanied by Anca, we visited some of the city landmarks: Place Saint Lambert, Hotel de Ville, La Palais des Princes-Evêques and many more exciting places. During this visit Anca told us about the major events in Liege that will take a part in the future. After discovering the most exciting places in Liege we went for our first visit at VIEWS office. There we had our first mentor meeting (my mentor is Anca and Corentin is Roxana's mentor) where we agreed what we can expect from each other during the ESC project. For the rest of the week, we continued our learning to be independent in a new environment. At the end of our preparatory period we've met another volunteer Angelique, whom together with Sylvie introduced us to first aid (rules and practical exercises).
These few days spent in Liege were amazing. We had the opportunity to meet several new people, saw many interesting places and we could improve our autonomy with the help from local volunteers. Now it is time to start our volunteering activities and enjoy discoverying Belgium.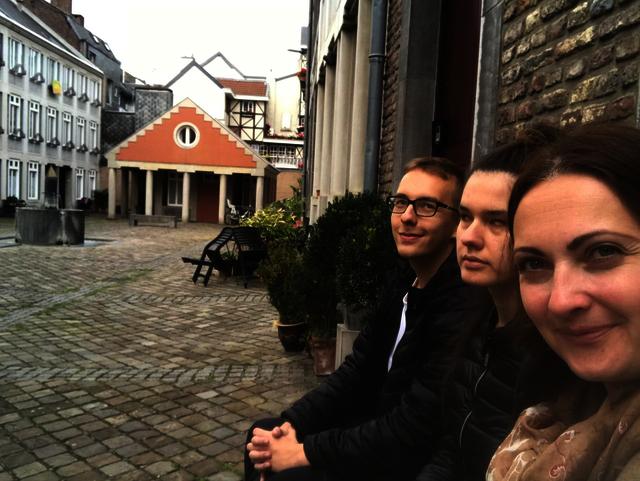 Getting with touch in our ESC project (Roxana & Kuba ESC project)
We, Roxana and myself – Kuba, we participated at a three days seminar organized by the Belgium-French National Agency in Louvain la Neuve for European Solidarity Corps (ESC) volunteers hosted in French speaking community of Belgium. Thus, we had the opportunity to visit a new part of Belgium, get useful information about ESC and meet new people. The time spent there was very busy but it also was impressive experience.
For me and Roxana, my fellow volunteer, it was a first time when we had the chance to visit central part of Belgium. We traveled to Louvain la Neuve by train, and it took less than two hours, so the journey was not tiring. Upon arrival we got to a hostel and met other ESC volunteers. Atmosphere was truly kind and friendly. There were many people who we could meet and talk about interesting issues.
At the seminar we had a lot of development activities. We spent the first day of our training discussing with other volunteers, to know each other a little better, to talk about our projects and share experiences. That evening, each of us had an opportunity to present our native country, so we could try a variety of dishes, listen traditional music and experience some unusual dances.
Next day in Louvain la Neuve was very engaging. Our seminar started at 9:00 am with various debates and raised the following topics: what means being a volunteer, why we want to be volunteers, what are our purposes and expectations from projects. These conversations were inspiring. As well, this day our rights and duties like volunteers were explained for us. Following this meeting we got a large amount of information. In the afternoon we had a cultural visit at Hergé Museum where we could listen to history regarding artists or inventors from Belgium and see some impressive exhibitions related to the city. In the evening we had supper all together in one of local restaurants.
The third day began with another exercise consisting in the exchange of experience and feelings, this activity was very encouraging and let us get to know each other even better. Later we visited the city with a guide who told us many fascinating facts and showed a lot of wonderful places. The day ended up with a short quiz about Europe.
On Saturday we had to leave our rooms, say goodbye from each other and go back home. This time was spent truly good, we could know many people and enjoy a visit in this beautiful city which is Louvain la Neuve.
Volunteers seminar in Brussels- ESC Roxana & Kuba
In January 2020 the Belgian National Agency (BIJ) once again organised a seminar for volunteers of the European Solidarity Corps from the French community of Belgium. The meeting took place in Brussels on 15-17 January.
Thanks to the seminar we've met again with people whom we knew from the previous seminar in Louvain la Neuve. The meeting took place in Hostel Generation Europe located near to a center of the Belgian capital.
The seminar was much more focused on equiping volunteers with theoretical knowledge. However, there were also exercises related to group and individual creativity. So we got to know about the administrative issues in Belgium, the ways of resolving conflicts through practical exercies and we had a meeting with former volunteer who shared to us the information as which places we should visit in Belgium, how to travel at the most appropriate way, how to save more money and other.
There was a time to explore as well. We went to the Parlamentarium, where were presented the entire history of EU in a very interesting way. We also walked in the evening around the city center at that time city looked even more beautiful than during the day. We had the opportunity to visit an organization which helps people in need, which was a really exciting experience.
Unfortunately that was the last seminar during our ESC volunteering project. Now we have to find some free time to meet our fellow volunteers again. We brought from there a lot of nice memories and useful information. We hope, we'll have some other opportunity to meet each other again.
Hi everyone, this is Roxana, I'm twenty-seven years old, I come from Romania. Since September 2019 I have a pleasure to participate in European Solidarity Corps volunteering project in Belgium. I've already had the occasions to take part at previous European exchanges, but this project was something absolutely new for me. Nearly before the project I was struggling with many emotions but the main feelings were excitement and fear because that was the first time when I was leaving my country for nine months without my friends and family. However, over all these feelings I was truly motivated to change my life and give all my capacity to help others.
Few more words about me. That how I said at the beginning my name is Roxana. I'm blind person since the birth. All my education took place at the special schools for visually impaired people in my country what I find helpful in my project. I am also a qualified psychologist. My interests are the history and singing. The second one takes a lot of time in my life, especially the Romania's folk music which is my favorite kind. I'm doing my project in IRHOV (l'Institut Royal pour les Handicapés de l'Ouïe et de la Vue) which gives me the opportunity to work with disabled youth and this is exactly what I would like to do in my life.
At the beginning of my project I was facing many problems. I had to start a new life, in new country and unknown environment. However, the thing which brought me the most problems was mobility. Working at this issue took many hours of my hard work.
Fortunately, with huge help and involved of VIEWS volunteers as Carine and Tamara, I've been starting to break all these barriers. That what gave me also a lot of fantastic memories was the French lessons with Philippe, who leads his course in truly unusual way, what gives so much fun and knowledge at the same time. I'm also really thankful to my mentor Corentin, who helped me every time when I communicate any problem. Finally, I have to mention Anca, who is my project coordinator, her role, was not just limited to an official relation. She's as a good friend on which you may count at every moment. Anca led me and my fellow volunteer Kuba through all the project and she was supporting us every time when we needed, especially during this hard time of COVID-19 pandemic.
The time which I spent at IRHOV was inspiring as well. At this place I had majority of my activities. Eventually, I got the opportunity to work with youth which I always like to do, That was a time when I was able to give all my experiences that I purchased during my education. To be honest, the beginning was really hard, I had to recognize the new places and try to break out the language barrier which was also not easy. In the course of time everything has been going easier because of my determination and help of others people from my environment. I also have to say that not everything was great, I encountered many problems that I could not overcome, eventually all these things gave me the unique experience and, in some way, rebuilt my character.
This time spent in Liege during my ESC was something fantastic. It has changed my whole life. Despite the fact that I felt anxiety, now I'm fully satisfied that I decided to participate in an adventure like this. Many thanks to all my collaborators, people I met, friends and VIEWS staff for this tremendous nine months which I spent in Belgium. I also would like to recommend this project for every visually impaired young person: you should not be afraid, that will be a time which will give you many fantastic memories and will let you met a lot of new people. I'm so grateful that I could be with all of you there.