Views International has the pleasure to let you know that from October 1st 2013, three new volunteers will start their EVS projects in Liège.
Agnes from Germany, Emoke from Romania and Gala from Bulgaria are the 3 girls who said "yes" to a new exciting experience as European Volunteers. They will be hosted in adapted EVS projects of 9 months.
Gala will work in the Executive Office of Views International and help implementing new projects and activities for visually impaired people in the network; Emoke will be involved in facilitating French classes with immigrants in Orchidée Rose and Coordination Socio-Culturelle de Sainte Marguerite; while Agnes will facilitate sportive, music and educational activities with children from specialised school for the Blind in Liège.
All three volunteers are helped by VIEWS International team of professionals concerning mobility, daily living skills, French and much more. Let's wish them good luck and hope to hear from them very soon! 🙂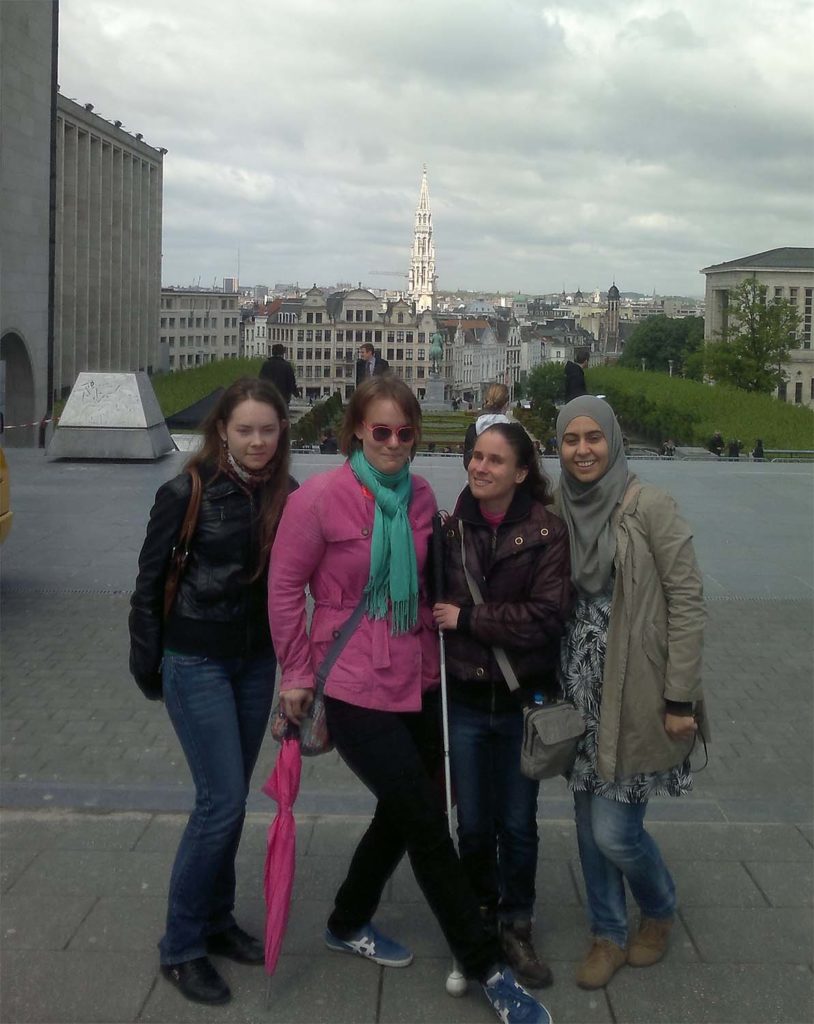 European voluntary service – touch the challenge!
European voluntary service (EVS) is open for all young people, aged 18 to 30. It is unique possibility for personal and professional growing and development. The project gives opportunity for international working environment and plunge in foreign language, culture, mentality. This is a great chance for the youngsters, which shouldn't be miss.
My name is Galina from Bulgaria. I am 27 years old and almost exhausted option for participation in the EVS project. That's why when I found announcement for place for volunteers in Liege Belgium, I applied immediately . A few months later I understood for my approved candidature. And the adventure began.
My EVS started 6 weeks ago,but already I am feeling like the part of the team here in the office. My workplace is Views International, association, working with and for visually impaired and blind young people. My tasks here are different. At the beginning I have to learn a lot for more effective supporting activities in the office.
The team is small,but united,hard working and good interacted. The number of the members goes between 4 and 6. All of them are young and high motivated.
Anca is the director of the executive office of views International. . She is project manager here since 2006, one of the co-founders of Views International in 2008. Anca is dynamic, strong motivated, full of energy and multifunctional. She is responsible for the coordination, sending and hosting of EVS projects and in charged of other type of projects like: youth exchanges, trainings, seminars, job shadowings, as well as of local activities (e.g. adapted cultural visits, awareness sessions, etc) and of local and international contacts with partner organizations. She is coordinate the Communication Group and the Executive Office of VIEWS International.
When I asked her for her motivation and for her source of power , she explained me that when you have the opportunity to see how the volunteers grow in front of your eyes, it pushes you to continue. Their personal changing and transformation from diffident and not sure in his own strengt,his/her growth with faltering steps to young self-confident and believe in his own skills, person. Even in the boring paper work, Anca finds for herself some challenge, when is need to be standing in front something new.
Carmen was volunteer in Views International like me 5 years ago.Today she is part of the team of the organization. She is working for international project for cooperation between "Views" and Chinese organization. In the moment is the last faze of the project. It began in 2012 with several meetings for job shadowing,exchange of experience and good practices.
She is employed till the end of 2013, but would want strong and fight hard for new contract.
The men are minority in Views team. One of them is young, ambicious and open-minded.He is Arnaud and is administration assistant in the executive office . He knows for the organization since 2007 after participation in youth exchange. After that logically follows his EVS project in Spain. Since December 2012 Arnaud is working in the executive office. The responsabilities for him are communication management taking meeting notes, assuring the building maintenance. Thankful his good knowledge of Dutch, English and Spanish languages, he could be helpful for his colleagues and the target group of organization.
Vanesa is the next member of the Views team. Few years ago she was a volunteer in in the school for visually impaired children in Liege. Now she is president of Views International. At the moment is part from our office, thanks to funding by Grundtvig program from September 2013 till July 2014. Vanesa is worked hard for creation of the project, focused on corporation and collaboration between Views International and young Turkish organization. In November our colleagues from Ankara arriving here to obtain knowledge and experience how to work with blind and visually impaired youngsters,to organize youth exchanges, meeting with Views volunteers,discussions for "Youth in action" program. This Turkish organization is great example that 2 years after its founding, it has already full membership in"Views international". This job-shadowing project is great opportunity for them to learn, to receive knowledge and to put in practice the seen.
In executive office Vanesa is responsible for the project management and "Views international" network management.
The other man in Views team is Florentin. 2 years ago he participated in job-shadowing project and the achievements and the way of working of the organization impressed him. Five months later Florentin received the chance to become part of the young team in the executive office of Views International. He is proud to belong to this great and dynamic team. High motivated and hard working Florin is ready to help and support his colleagues for each technical or computer problems. The Views clients are welcome too. He is proud to belong to such a dynamic and lively organization and hope to contribute meaningfully to its future!
The volunteer in our team is Denis. She is smiley and dedicated. Her job with Views consists essentially to check the accounts, the invoices, etc. After the accounts are encoded by an official accountant who manage with the official administrative rules. The bank payements are now processed by Arnaud.
Denis is not only accountant. When the numbers don't take her time, she is mentor for some volunteer. Her experience in the role is short. Last year Denis gave a little help to Kasia for the articles (for the magazine "Maurice"), They also met a few times for leisure, for shopping,.
Her job for "Views international" is started 3 years ago with Beatrice and Denis.es motivation was just to help a friend.
Thanks EVS, I am here and have 9 months to learn,to share experiences and to take all knowledge , which my colleagues in the executive office have.
 One story for first impressions for the work in VIEWS executive office, told by our EVS volunteer Gala