"Musicted Europe" was a youth exchange organized by the German association DBSV and VIEWS International AISBL (VI) from Belgium exchange under Key Action 1 of the Erasmus+ Programme.
The activity took place from August 1st till August 9th 2015 in Hannover, Germany. Young visually impaired and sighted persons from seven different EU countries: Belgium, Bulgaria, Germany, Spain, Greece, Italy and United Kingdom participated.
During this exchange young participants had the opportunity to make, create, write, produce and record songs together with the help of a professional producing team in mixed groups. This way they experienced the ability of music to connect and to unite people with different abilities or disabilities from different countries.
Four news song were composed in four groups:
A group presented an interesting piece made of different kinds of traditional music, this way the listeners can travel through europe.
There was an acapela group who dedicated their song to Europe.
A pop group who made an energizing European song
A rock group who charmed its listeners with their brand news song
At the end of the Youth exchange a big concert was given and the public could listen to all the new pieces, the two choir songs prepared together with the German Musical Week group and other melodies from participants.
Of course other activities were on the agenda like: debate with a blind musician about possibilities to work in the field with a disability, body percution, playing instruments intercultural evening, country presentation, debate on possibilities of projects within Erasmus+ and so on.
The initiative of this activity came from a young German who did his EVS at VIEWS International. He is pationat of music and with the help of both partner he could make his dream come true. A real success this event as you can read the testimonies of some participants.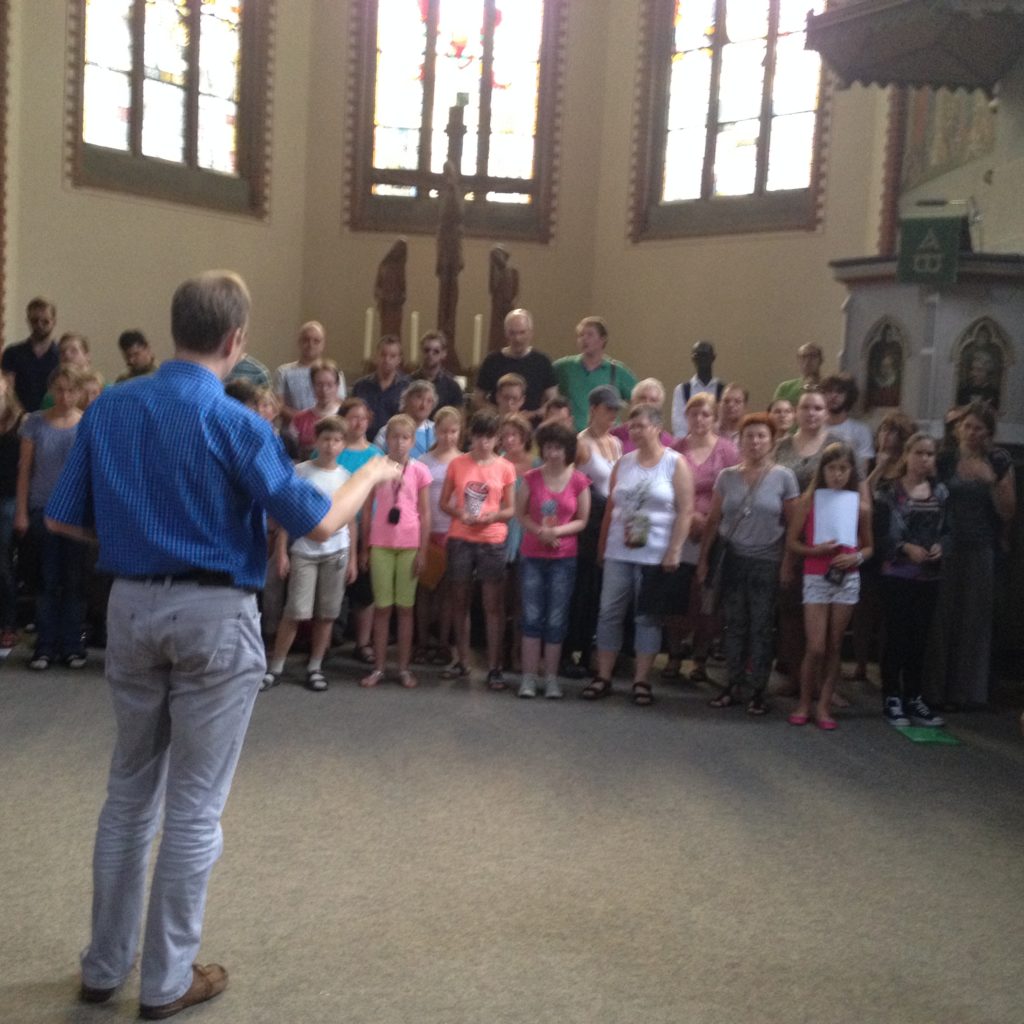 An Unforgetable Musical Experience
I'm Lori from Belgium. I was a groupleader and I am very proud of our group.
In the beginning I told myself that I'll help where they need me because I am not at all a specialist in music. I sing with pleasure but that is all. I play no instrument too.
So I said I'll help with writing the text. Then I had to sing soprano as in an acapela group voices are taking over the role of instruments and then I was asked to sing solo one part too. That one was not the best, but it was a discovery of course.
Recording in a studio was also a special and unique experience. We gave hard work to the studio people. But it was such a nice feeling to read their positive surprising in their voices.
It was so nice to fill the atmosphere of creating during some periods of the exchange. You could hear the evolution of melodies, voices. A really special time.
Our concert was amazing, the church was quite filled up with people from the city and even further to come to listen to us.
I liked the group. So many talented persons. It was a pleasure to listen to them, to have nice talks in the evening with a glass of something in front of us.
We had interesting debates, on music, traditions culture, carrier,potential new projects.
I really hope that some of them will come true.
Thanks Max for your wonderful idea, for your implication in the different phases of this activity, Thank you the german team for your wonderful organisation and to allow us to live such a unique experience. And thanks to all young people, group leaders for your contribution. To our volunteers and assistants there are not enough words to express my gratitude. You were always where needed and very active in composing and singing too. That is a real youth exchange.
Dear musicted friends and readers of this newsletter,
we prepared the musicted website:
There you find not only our 4 musicted hits composed during the youth exchange, with their texts, but also other recordings of the body
percussion workshop, the creativity night and more.
We will ad soon more things, like statements of you to Europe, from when we interviewed to, statements that were the departure point of the acapela group for its text, and the recordings of
the final concert.
Enjoy all these wonderful creations.
Reiner