From the 26 th august to 2nd of September the amazing Training of trainers Transformers took place in Ankara. It was organized by Turkey Youth Union under the programme Erasmus+. There were participants from 8 countries: Turkey, Italy, Romania, Ukraine, Croatia, Latvia, Spain and Marocco. The project was very complex and included mixed abilities participants, youth workers and future trainers prepared to deliver inclusive training sessions.
During this week we had several activities to make social inclusion possible. We worked a lot in a team to reflect on different aspects of disability in n society. Also we had very emotional and linked directly to the heart team building activities. These activities helped us to develop new skills, attitudes and aptitudes not just for good trainers but also for good people in the society. For example, one of the activities, called Best Friends Forever, was a metaphor related to empathy, carring and support. Each participant had to chose somebody to whom he or she didn't talk to much till that moment and then they had to take care of each other during the whole week, even for not being late in the training sessions.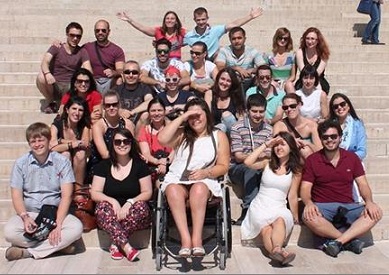 After the team building activities we were asked to divide in five groups to give our own inclusive training sessions. Each group picked a specific topic and had to prepare one hour session activities linked to the concerning topic, like: social media, leadership, social entrepreneurship, unemployment, gender equality and no hate speech. Each session included the team building, group work, non-formal games, reflections, debates, role play and other non-formal inclusive methodologies or adapted ones in order to be accessible for everyone. At the end of each session, participants and trainers could give feedback to the group who was leading the training session.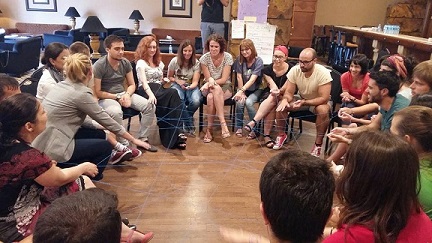 After all these involving training sessions we made the evaluation in groups in a non-formal by role playing. Also, we had some cultural activities like the visit around the city of Ankara, to the Mausoleum of Atatürk and a wonderful intercultural evening where each national group presented their own country. Last, but not least we had to evaluate the training course in an individual metaphor by choosing an object which represented our impressions and our feelings about the whole week.
Through the methodology of non-formal education we learned that as a good trainer it's important to know that you have participants with different learning styles and you have to adapt your activities and methodologies for every kind of needs. We also discovered that in nonformal learning it's not necessary "to have the perfect circle in the end " because you don't have to make everything perfect, it's all about the learning experience and what do you take from it. If you take the feedback as a gift, you are thankful and you learn from it you can be better and better so you can
improve your skills as a trainer with every experience you gain.
In the end we realized that working with mixed abilities groups, is not as easy and simple as it is in working with groups without any special needs, but is more meaningful and fulfilling. As a conclusion we are not saying that is going to be easy, but it's going to be worth it!
Anna Rita de Bonis and Anca Irimia