The annual General Assembly of VIEWS International was held on 9th September in Fondi, Italy. Five members were present at the summit (Germany, Hungary, Italy, Romania and The United Kingdom) plus The CEO of VIEWS and an observer from Bulgaria. These present were proxies for the non-attending members.
The meeting was opened with a warm welcome by our host Anna Rita De Bonis after which the work began. After Mike Thornton announced his wish to continue with The Board of Administrators, only Nick Bakalov and Lucy Hayward were discharged.
Next in line were the new entries, both in the organization and its Board. The Belgian La Baraka and The International Council for Cultural Centres (I3C) from Bulgaria presented their candidacies to join VIEWS. Due to its longstanding cooperation and according to the statute and bylaw La Baraka became a full member, while I3C was voted a subscribing member. Anna Rita and Bogi renewed their terms in The Board of Administrators and were joined by the new ones: Loredana Dicsi from Belgium, Giulia Pagoni from Italy and Florentin Radulescu from Romania.
The afternoon session was dedicated to potential ideas for future activities. New projects and activities were outlined for 2018, plus a provisional budget voted. An essential part was the issue with the website. At the end concerns for the abrupt and unexpected withdrawal of the two previous members from Bulgaria were expressed and The Board was assigned to cary in order to prevent this from happening again in the future.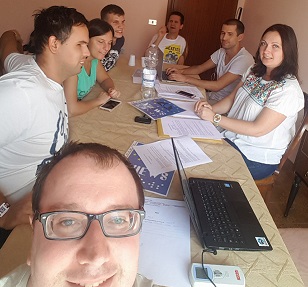 Our admiration should not be forgotten for Anna Rita and Claudia's hospitality, as well as Antonella, the owner of the hostel, who did their best to make the atmosphere so cosy that we felt right at home. It would be a crime not to emphasize master-chef Antonella's culinary skills and to blame her for the few kilos We brought back home. Those who didn't have to hurry for an early flight enjoyed a stroll in the sunshine to down town Fondi where past and present live together: ancient cathedrals and a synagogue are just a few tiny cobbled streets away from the slick fashion boutiques. Following the afternoon rainfall, we even stole some moments for photos before the sun set beyond the Tyrrhenian sea. All of the above mentioned gives me the pleasure to conclude that although all of us present at The GA are seasoned participants at VIEWS activities, it's hard to believe one has ever attended a better summit.