The European Voluntary Service (EVS) is an Erasmus funded project that offers volunteering opportunities for Europeans between 18 and 30 years old. Each year, VIEWS International can host three young visually impaired EVS volunteers in an adapted EVS programme based in Liege, Belgium. Click the links to find out more about the three individuals who embarked on their EVS adventure for 2017 and 2018.
In September Views International welcomed some new EVS volunteers to attend an advanced planning visit (APV) to Liege. The purpose of the 
APV is to give EVS volunteers an opportunity to experience and explore the city of Liege before they make it their home for the duration of their European Voluntary Service Programmes. The APV is a chance for EVS to meet their fellow volunteers, get to know their hosting association and find out a bit more about what it's like to live and work in Belgium. Volunteers are also given the opportunity to meet the leaders of their individual projects, so they can get to know more about what their voluntary projects will involve.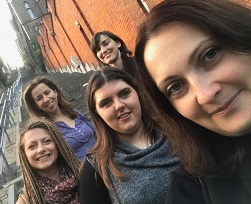 Anca, Samantha, Corto, Hugus and Hamza at the Montaigne de Buren in Liege
The APV's were very successful, with , Corto (from France) and Elin (from the UK) very much enjoying their first visit to Liege. It was a valuable opportunity for the volunteers to get to know their accommodation, to visit the organisations where they'd be volunteering and to meet the Views volunteers that would be helping them adjust to life in Liege with things like Mobility, French lessons and assistance for daily living tasks.
Selfi of Anca, Samantha, Elin, Charlotte and Megan at the Montaigne de Buren in Liege
The APV was also a good opportunity for the EVS volunteers to get all the practical information about the programme; meeting their mentors, organising how and when they will receive their pocket money, etc. It was the time for volunteers to get answers to any questions they had about the programme and to get all the information that would enable them to prepare for moving to Belgium. Not forgetting the chance to sample some local delicacies' like Belgian waffles, beer and chocolate too, of course.
Introduction to our EVS volunteers 2017-2018
Let us introduce you to the volunteers who will be doing their EVS in Belgium for nine months!
Elin
Elin and guide dog Jazzy
Elin from Wales, UK, is 22 
years old and is blind. She has studied English Literature in University and is interested in organising events and communication. During her stay in Belgium she will volunteer at the VIEWS office, managing the newsletter and website and helping with awareness raising events, as well as volunteering at La Baraka, a youth centre for refugees in Liege. Elin also arrives in Belgium accompanied by her guide dog, Jazzy who has been with Elin for almost three years. You can follow Elin's blog, www.seemyway.org to read her posts about her EVS experience.
Corto
Corto smiling with a glass of beer
Corto from Toulouse, France, is 29 years old and partially sighted. He has studied history in university and has previously studied abroad in the UK and participated in a project helping develop the local area in Sinegal.. While he is in Belgium he will volunteer at IRHOV, the school for blind and deaf children in Liege, supporting the students in their lessons and assisting with mobility and braille sessions. Corto is writing about his EVS experience and hopes to produce a book at the end of his project.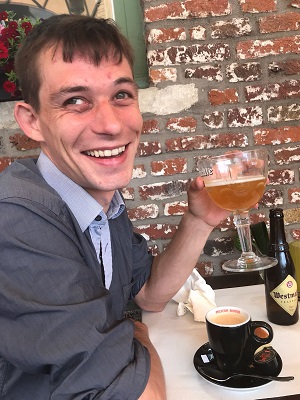 An EVS insight with Corto
Hello everyone !
I am Corto BUSCAGLIA, a 29-year-old visually impaired Frenchman.
I have suffered from the condition Retinitis Pigmentosa, a genetic disease that causes a progressive loss of Vision, since the age of six. To date, although significant progress has been made in the field, no treatment is possible to cure the disease.
However, I attended a rehabilitation course for people with low vision in a specialized centre which allowed me to master the techniques of using the white cane, Braille, and adapted technology. It is thanks to learning these 
skills that I am able to live independently, that I have obtained a joint degree in history and geography and that I was able to complete a civic service in a small association working for the visually impaired.
It was my civic service experience which inspired me to apply to the European Voluntary Service programme in Belgium, and that is how I came to be working for the Royal Institute for the Hearing and Vision Impaired, a partner of VIEWS International, based in Liege.
My role in the school is to teach visually impaired or blind students Skills to overcome their visual impairment and help them become independent. I work with elementary students (aged 6 to 10) and students from secondary school (aged 14 to 21).
In general, I work one-to-one with students but sometimes I also work with groups, for example in my Monday morning Braille class I have five students. In this class students use the Perkins, a Braille typewriter, to learn and memorise Braille characters, and the more advanced students read Braille books to improve their accuracy and speed.
In individual sessions, we learn to correctly use the white cane, both indoors and outside, and sometimes under blindfold. They learn to safely climb and descend the stairs, how to follow a tactile path, how to sweep the cane correctly so as to protect themselves and how to imagine the space around them.
They also use adapted technology by memorizing the positions of the keys on a computer keyboard and using keyboard shortcuts to interact with web pages or different software.
All these skills require long, meticulous learning, but They are necessary for their social integration and their professional futures.
I also organize small cultural workshops that can include preparing together a regional dish from my native Toulouse or presenting to them a tactile map of France. This is possible thanks to my colleagues who bring me valuable help and advice.
I hope that these activities are enriching for them and their futures. As for me, I bring them my life experience and my experience of living with a visual impairment.
The students are truly fantastic; they are great listeners and work hard to overcome their difficulties. All they need is the means to succeed and the chance to achieve their dreams.
Elin's cultural activity - bringing the pub quiz to Belgium​
Elin's cultural activity – Bringing the pub quiz to Belgium
This month I organised my first cultural activity for VIEWS. It was exciting for me because I have assisted with organising different VIEWS events before during my EVS project, but this was the first activity I would plan and coordinate myself. I decided to hold a pub quiz because it is something I would do regularly at home in the UK and is something I have missed since arriving in Belgium, so I thought why not create my own?
What is a pub quiz?
The concept of a pub quiz is very simple; people gather in a pub or bar and form teams with their friends to compete in the quiz which will usually include categories such as sport, history, general knowledge and usually a music round. Prises are normally awarded to the team who answers the highest number of questions correctly, but can also be awarded for more creative things like "best team name," or "most creative guess". Pub quizzes are usually lots of fun and a great way to spend time with friends during the working week.
Inspired by my local pub quiz from home, I set about writing my own quiz questions including a geography, film and TV, sports and general knowledge round, as well as a music round where teams had to name the song and artist after just listening to the intro. It was a good opportunity for me to practice my French and to test my own knowledge of Belgium history and culture when thinking of the questions. The quiz was held at a local café and I decided to award a voucher for a friterie to the winning team and a box of chocolates for the team with the best name.
I'm glad to say that the quiz seemed to be a success. Three teams competed and we ended up finishing with two teams scoring equal marks, so the teams decided to share the first prise. I had fun introducing something I enjoy doing at home to friends in Belgium, and above all I think we all had a good time.
I look forward to organising other cultural events for VIEWS before my EVS project finishes at the end of June.
My name is Elin; I am 23 years old and I am from Wales in the UK.
I have been visually impaired all my life due to a condition called Lebers Congenital Amaurosis. Though I could see much more when I was a child, this particular condition caused me to lose my vision very gradually until I was fourteen years old, when it deteriorated very quickly and I became almost totally blind.
While I was at university, I made the decision to get a guide dog. This turned out to be really lifechanging for me because having my guide dog Jazzy gave me much more confidence to explore the world independently.
After I graduated, I started looking for work but didn't have very much luck. It had always been an ambition for me to live and work abroad for a time, but I had lots of concerns about how I would do this with my visual impairment and how practical this would be for my guide dog. Never the less, I took a chance and sent my CV and motivation message to a list of European institutions asking for work experience.
The first I heard about EVS was when Clara who was doing her EVS in 2016/17, called me out of the blue saying that she had read my email and that she wanted to tell me about EVS. That was in February 2017, by October I was taking the Eurostar from London to Brussels ready to start this EVS adventure.
Elin at Eurostar London departures
My EVS project includes working at the executive office of VIEWS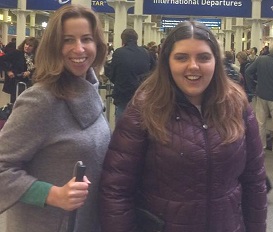 International, being responsible for the communication by writing the newsletter, updating the website and posting on social media, as well as assisting with any ongoing projects and events that might be going on at the office. I also lead awareness raising activities at La Baraka, a local youth centre.
My work at VIEWS is interesting and always different. I love writing, so I enjoy creating articles for the newsletter each month, but I also like helping to organise different activities for the office such as the dinner in the dark. It also gives me the chance to meet so many great people from all over Europe through the different international projects we run.
A very important part of my adapted EVS project has been the adapted French course. I had barely any French when I arrived, which made it very challenging for the first few months. However, the one-to-one lessons were really helpful for me and since I was able to change schools I have made a great improvement.
I have been keeping a log of my EVS adventure on my blog www.seemyway.org
EVS is not only a valuable opportunity for me to get professional experience and to learn another language, but it also enables me to achieve my dream of living and working abroad.
Social Inclusion with European Student Network​
When a fellow EVS volunteer asked me to help her run some social inclusion events for her association, of course I agreed. Joanna is from Portugal and like me she works for an NGO in Belgium for nine months as part of her European Voluntary Service. She is based in Brussels and works for the Erasmus Student's Network (ESN), the biggest student's network in Europe.
From 16th – 19th of April ESN held a range of different activities titled Social Inclusion Days. These two weeks of specialised activities were intended to promote inclusion within Erasmus project, but also to raise awareness of different disabilities with international members of the student network.. The two activities I helped coordinate were to raise awareness of visual impairment and to speak about my experience of participating in an adapted Erasmus mobility project.
The first activity was an intercultural dinner with a focus on visual impairment. Students brought dishes to share and had the chance to learn about visual impairment, braille, access technology and guide dogs. I spoke with several students about how I manage daily tasks with the help of things like technology and adaptations around the home and I gave a short demonstration of Braille. Many of them were really interested in my experience with the EVS programme, and of course my guide dog got lots of attention too.
We had a paper on the wall that asked people to write what they thought visually impaired people can and cannot do. This 
was my favourite aspect of the activity; being able to explain how blind people can actually cook, and we can in fact use computers. I enjoyed doing some mythbusting and I felt that I really managed to make them see that blind people are really not so different from our sighted peers.
The second activity for the Social Inclusion events was and "Art in the Dark' session. In this session I again explained a little about Braille, but I also asked students to make a shape using play-dough while blindfolded, and then to swap their creation with their neighbour so that they then had to try to guess what shape their neighbour had created just by using touch. I felt that this was a good activity to demonstrate just how much information you can gain through your fingers , if you only try. I also demonstrated how we can use colour detecting gadgets and appps to distinguish the colour of our clothes and I explained a little about how I do my makeup even though I cannot see. We again had the questions about what VI people can or cannot do and in fact we found many similar answers to the ones given at the first event. This was a really fun session with lots of laughter and I felt that it had been enjoyable and informative at the same time.
I hope that the ESN Social Inclusion Days helped raise awareness of different disabilities and encouraged students to consider how to make activities more inclusive. If you'd like to know more about ESN and their Social Inclusion Days, click here
An EVS project is of course a valuable opportunity to gain professional experience and to learn a new language, but it is also a chance to explore a country you may have never visited before. With so much to see and so many places to visit, it is possible for EVS volunteers to coordinate cultural activities and outings with volunteers from VIEWS International.
Doing exactly this, Anca, Corto, Elin, and guide dog Jazzy of course, took a trip to the Belgium city of Ghent.
First taking a boat ride on the river Leie, we enjoyed a relaxing tour on the water while listening to the tour guide recount historical tales about the city.
Elin and Corto smiling, sitting in the boat
Corto, Elin and Jazzy stood on a bridge with the canal in the background
View from the boat – different coloured houses and Marriott hotel / Typical Flemish houses alongside the canal
When we left the boat we were feeling quite hungry, so we decided to find a spot in a local restaurant to have some lunch. The food was amazing!
Starter duck and melon ; Fish main course ; Vol-au-vent main course ; Strawberry meringue ice-cream desert
The rest of the afternoon was spent strolling around the city centre, exploring local shops and investigating various monuments.
Souvenir shops are great places to find small statues or replicas of local landmarks, for example we found miniature representations of typical Flemish style houses that we were able to touch in order to better understand what they look like.
We even did a little climbing, but not the usual sort! Often the best way to understand something if you can't see it is to feel it, so it was inevitable that we had to get up close and personal with some of the larger monuments in order to feel the structure and understand the size.
We finished the day by enjoying some beer in the sunshine before making a quick dash for our train back to Liege, even managing to just mis the rain!
Elin and Dugumbi explaining adapted games to two young people
La Baraka is a social centre in Liege that has many different facets, including a creativity 
centre, a digital technology centre, a homework club and a language school, but the area that our EVS volunteer Elin has the most involvement with is the 'maison de Jeunes' in other words, the youth centre. This youth centre is open to young people aged 12 – 26 and welcomes all young people to come for interesting activities and socialising.
As part of her EVS project, Elin has lead some awareness raising activities for the young people at La Baraka, to teach them about visual impairment., and this activity followed the same theme.
Together they delivered a short presentation about themselves and their experiences of visual impairment as a small introduction, before introducing the more interactive activities; Elin presented some adapted games, while Corto gave a demonstration of how to use a white cane.
IRHOV
Elin and Corto speaking with young people at IRHOV
IRHOV is a specialist education institution for children with visual and hearing impairments in Liege. There is both a primary and secondary school available for students, though Corto spends most of his time teaching Braille, IT skills and mobility lessons to secondary school pupils.
For the second activity, Elin and Corto held a discussion about employment and volunteering opportunities available for visually 
impaired students after they finish school. They hoped to inspire and encourage the students to seek employment and volunteering opportunities, especially to make the most of projects such as EVS, by sharing some of their own experiences.
It was a really proactive discussion and a great way to motivate and inspire IRHOV students, as well as sharing information about Erasmus mobility projects that are available to young people such as the adapted EVS in Murcia
As it is nearing the end of the EVS project for Elin and Corto, these activities were a nice way of working together to collaborate on each others projects.