This year, there are three youth mobility projects.
Youth mobility work in Liège​
Wednesday, 28th March 2017
My name is Paola and I work as mobility youth worker at VIEWS International. I started to participate in the project "VIP Awareness-raising on unemployment" this January, at VIEWS International's office in Liège. For the project, we co-operate with two Italian and two German organizations. The project will end on the 30th of April and will result in a brochure, a policy paper and some awareness-raising sessions.
I heard about this project last December from a friend. I had just finished a vocational training to become switchboard operator in the beautiful city of Bologna (Italy). I really didn't feel like going back home and stay idle while waiting for a job, so I decided to take control of my life and applied for the project. I really felt like turning over a new leaf and starting the new year with an enriching experience abroad, though it was not the first one. I wanted to learn a new language, have a different working experience and get to know new people and cultures. I was happy and anxious at the same time, because I didn't know what to expect. I was afraid I wouldn't manage to carry out the tasks they'd give me, but I tried to push the thought away. Therefore, it was my bravery which led me here. Now I'm almost at the end of my Belgian experience, and I can say I feel stronger than before.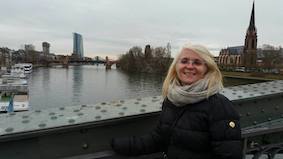 After being accepted for the project, in January, I got everything ready and left in a matter of days. As soon as I arrived in Liège, I was positively impressed by the city and the country in general. The people working at VIEWS International were very welcoming and showed me the apartment where I'm still living. Working in the office wasn't very easy at first, as I didn't really know the project and the other people involved in it. However, things got easier as time went by. I started talking and co-operating with the other participants to the project: Theo and Nina, Belgian and German, respectively, who were sent to Italy as youth mobility workers; and Martina, a sighted girl working in one of the two Italian organizations. I mainly had contact with the three of them, whereas I communicated less with the other participants: it's not easy to communicate remotely, when there's also a language barrier to deal with.
From the very beginning, I started working on a brochure focusing on the employment situation of visually impaired people. Afterwards, we wrote a questionnaire and sent it to visually impaired people who work, study or are looking for a job in the three partner countries of the project. At the moment, we are organizing some awareness-raising sessions targeting employers: we want to make them understand that even people with a handicap can work and lead perfectly normal lives. In short, the aim of our project is to get a message across to everyone: be it employers, politicians or ordinary people: that visually impaired people are still endowed with skills and abilities, just like anyone else.
I must confess that it was quite hard for me to interact with people from different European countries: I don't speak English very well, and I've just started to attend French classes here in Liège; I get on very well with my teacher and I think she's extremely competent. Besides, there's an Italian girl who does an EVS at VIEWS International and lives with me. We get on like house and fire! I'm really lucky that she speaks Italian, at least we can communicate with no problem! Her name is Clara, she's from Rome and we're together a lot, doing many cool things here in Liège. Sometimes we also travel to other cities, both in Belgium and in The Netherlands. There are two other people working at VIEWS International: Tamara and Anca; I get on quite well with them, but I feel some kind of distance between us: they speak another language, and it's not easy to interact with them, either when they give me a task or when I have some problems. To be honest, I'm a bit disappointed, because it's clear that they only want to have a professional relationship with me; I would've liked to have a more friendly relationship with them even outside the office (going for a walk, having dinner or just a coffee…). I've often felt lonely here, and they've never really noticed it. I thought they'd be more empathetic with me, but I often felt abandoned.
It's quite tiring and frustrating for me to speak and understand another language, especially in a working environment; that's why I decided I won't have any other working experience abroad. I will focus on Italy, looking for a job and doing a lot of volunteering. I miss Italy, my small town, my family and friends… I'm really looking forward to going back home!
I don't like Liège at all: too many beggars, too many drug addicts asking for money… I was robbed twice, and I've been even assulted once, at the bus stop, at noon! In general, I didn't like Belgium either: the landscapes made me quite depressed, as well as the houses, dark and looking all the same. In Italy, everything is much livelier and more cheerful, including people. It's probably my sensitivity that makes me judge the place in a negative way… but it will be over soon. I can't wait to turn over a new leaf and start a new chapter of my life, which is beautiful, though quite difficult sometimes.
As far as the project is concerned, I've had more work to do in the past few weeks, as I had to finish everything before going back to Italy, on the 18th of April. I feel accomplished and I hope I did a good job together with my team.
I'm sorry I'll have to say goodbye to my friend Clara, but we'll meet again soon, in Italy this time, and everything will be great!
Youth mobility work in Pisa​
Nina a young woman from DBSV Germany will make her mobility project in Italy Pisa in the organisation Aforisma where she will work with Martina and Vanessa. We wish Nina good luck and hope that she will enjoy her project. We strongly with to both Nina and hosting organisation a fruitful experience. Nina will start on September 21th.
Facerbook infos about his project
Youth mobility work in Trieste​
I went to Trieste, Italy, from mid-January to mid-April, as a youth mobility worker participating in the project "VIP Awareness Raising on Unemployment". It was a very great experience for me, because I had the chance to meet very kind people, both at the Istituto Rittmeyer, where I was working, and in the city itself.
I shared a flat with two Italian guys: one spoke very good French, and the other English. They both studied conference interpreting and they showed me quite a bit of the Triestine culture. Though I didn't spend so much time with them, as I was mostly at the Institute, sometimes we would eat together, or we would go running during the week-end (there are very beautiful woods and paths on the outskirts of the city). We also went to visit some nearby cities, such as Treviso or Venice.
Theo at an awareness-raising session
As for my job, I was lucky enough to be surrounded by very kind people,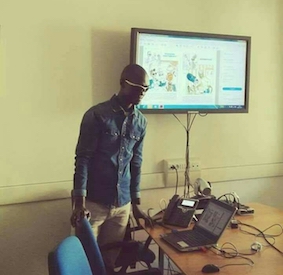 who helped me a lot to understand how I had to work, what I had to do etc. I didn't know much Italian when I started, but they always explained things to me and helped me if something wasn't clear. Marialaura, in particular, who was doing an internship as secretary at the Institute, helped me a lot in this respect.
I was involved in the writing of the brochure, which had already been started by Nina (she had done a great job!) and which I continued to work on with Paola, who was hosted by VIEWS International in Liège. Also, I had to collect answers to a questionnaire for a policy paper, among visually impaired people. The Institute was a precious resource for me, as there were many people I could interview.
I also organized two awareness-raising sessions, one in the Institute itself and one in a job centre. During the first one, I mostly talked about visual impairment: mobility skills, use of technology etc. People were really interested and asked me a lot of questions, and it made me feel really good to show that being blind is not so terrible after all! At the second session I focused more on work-related issues when it comes to visually impaired people: I talked about the law systems in Belgium and Italy, and emphasized one aspect in particular: not only can blind people work as everybody else, but they can also do some extraordinary jobs that no one would expect them to do, such as journalism.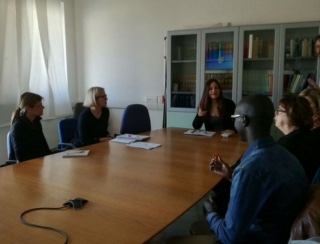 As my Italian was not really fluent, I often switched to English during the sessions, 
sometimes mixing it with Spanish (I came to realize that Spanish is not too far from the Triestine dialect after all!). Also, Marialaura was with me and helped me to fill the gaps when I didn't know how to explain something in Italian.
Theo at another awareness-raising session
I really loved getting to discover Trieste and the Italian culture in general. As I already expected, food was delicious, and I got to eat a lot of pasta, pizza and much more!
All in all, it was a great experience for me, but way too short: it took me some time to get used to everything, and before I knew it it was already time to leave! I really believe that three months is not enough for such a unique experience, and that it would've been much better to stay there for six months up to one year.