What is it about?
The project "Beyond barriers and borders" aims to encourage the exchange of competences between young visually impaired people (18-30 years old) and older people (50+ years old). The competences in question are:
daily living skills (cooking, ironing, doing the laundry, etc.):
IT skills (the use of computer, smartphone, Braille displays etc.);
interpersonal communication skills;
reading, writing and counting techniques (including Braille and new technologies).
In short, it is not "only" an intercultural exchange, but also an intergenerational experience. A ground-breaking strategic partnership for Views International!
The project consists of three 5-day trainings in Warsaw (Poland), Liège (Belgium) and Vienna (Austria), preceded by preparatory meetings only for the organizers.
Who can attend the trainings?
Each training will be attended by 30 visually impaired people (10 per country), between 18 and 30 years of age, who will be assisted by 4 guides. Besides attending the three meetings, participants should also attend a local event to disseminate the results of the project, and should be available for Skype/phone meetings and e-mail exchanges from April 2017 to end June 2018. Moreover, they should be able to communicate in English.
An article about the project was circulated to the European Blind Union network in April 2018, following the final training in Austria. You can read the article here
2017 transnational meeting in Warsaw​
The first preparatory meeting took place on 7th February 2017 in Warsaw, Poland. The meeting saw the participation of Anca David and Tamara Scharping, on behalf of VIEWS International, as well as those representing the co-ordinating organization (Polish Association for the Blind, PZN) and the other partner organization (Austrian Federation for the Blind and Partially Sighted, BSVO).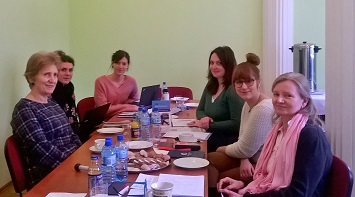 During the meeting, the project partners discussed the first steps of the project, fixed some dates and outlined the content of the meetings:
training in Warsaw (30th May-4th June 2017): to exchange competences about reading and writing thanks to the newest technologies;

training in Liège (16th-21st November 2017): about daily living skills such as cooking, choice of clothing and image creation;

training in Vienna (9th-13th March 2018): about access to sport and leisure for visually impaired persons
My name is Laurence Michel and I am 27 years old. I am from Belgium. I have participated in a lot of projects with Views International, mostly youth exchanges. This project "Beyond Barriers and Borders" was very special for me, because it was the first project I participated in with my guide dog Luna. Besides, it was different from all the others I attended, because it was an intergenerational project, consisting of a training about new technologies and text comprehension (e.g. Braille).
The first training of this Erasmus+ project was in Warsaw and lasted 5 days. Participants came from Poland, Austria and Belgium. The project will continue with a training in Liège (November 2017) and another in Austria (March 2018).
I think that this training's programme was well balanced between the training itself and the cultural visits. My favourite one was the visit to the National Museum, adapted for the blind and with a very good guide. Warsaw is an extremely interesting city, easy for disabled people. There are also a lot of parks, which was great considering the wonderful weather.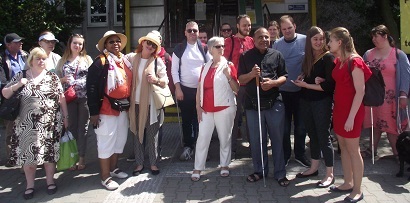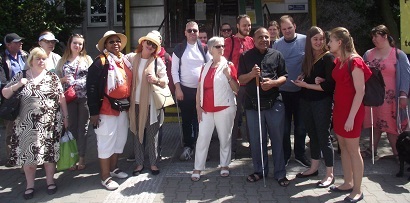 As for the training, I was delighted to discover new apps for household activities and for GPS navigation. Besides, I really I liked what they showed us about Braille, with tactile books and maps. In streets and parks there were a lot of tactile scale models, which was great for us visually impaired persons! And the guides had tactile maps for every visit, which was great too.
I was really glad to have the opportunity to practise my English. Luna helped me a lot to get in contact with the other participants, who were very friendly! The interpreters were extremely helpful as well!
All in all, I'd say that the hosting association did a very good job! For a first time, it was a real success! I'm really looking forward to seeing the very nice Belgian group in the following trainings. Luna, too, is eager to meet her friend Etna (the other guide dog attending the training) again soon.
Transnational Meeting Liege​
On Tuesday 7th November, VIEWS International hosted a Transnational meeting for the organisers of the "Beyond Barriers and Borders" project (within the framework of the Erasmus+ programme). This meeting was held so that the organisers could finalise the programme and arrangements for the second phase of the project, the training held in Liege from 16th November to 21st November 2017.
The project is an intercultural and intergenerational exchange of both blind and sighted participants from Austria, Belgium and Poland. The project has already completed its first phase in Poland, where groups from three countries joined together to exchange information and techniques for literacy and numeracy with a visual impairment. The second training held in Liege, will focus on daily living skills and will include workshops about cooking, cleaning and self-care.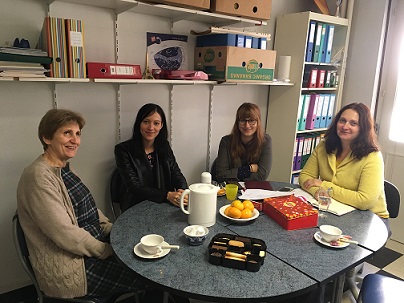 The TNM was very positive, with all participants looking forward to the training in Belgium.
During November VIEWS hosted a five-day training event here in Belgium as part of the Beyond Barriers and Borders (BBB) project. Funded by the Erasmus+ programme, the BBB project is an intercultural and intergenerational opportunity for both blind, partially sighted and sighted people between 18 and 30 years old, and 50+ to learn and exchange on issues and topics relating to visual impairment. The training that took place from Thursday 16 to Tuesday 21 November in Liege, Belgium focused on daily living matters and included workshops on things like cooking, being visually impaired parents and discussing taboo topics. We hosted a group of participants from Poland, Austria and Belgium for five days and were helped by VIEWS volunteers to hold several workshops and cultural activities each day.
The three groups arrived late on Thursday evening so there was just enough time to enjoy a quick dinner before getting some much-needed rest before the days ahead. We kicked off the training on Friday morning with some essential mobility and orientation around the accommodation, followed by an introductory speech by one of our VIEWS coordinators, Sylvie, who introduced the values of the project and presented the programme for the days ahead. We also got to know each other a little with some ice-breaking games. Following lunch, it was time to proceed with the workshops, that afternoon being about safety in the kitchen, preparing easy and healthy snacks and household cleaning. After a full first day, some of the participants chose to explore the city while others enjoyed adapted board games.
Saturday morning involved more cooking as participants had the opportunity to learn how to make Belgian waffles, salami biscuit desserts or participate in a discussion about different techniques and adapted equipment to use in the kitchen. After lunch, it was time for some lively debates about embarrassing and taboo topics, difficulties in daily life and about being visually impaired parents or grandparents. Some excellent discussions were had which allowed many participants to share their own experiences and exchange alternative views in a respectful and non-judgmental environment. Sunday was a much more relaxed day, starting with an optional visit to a local Mass service and followed by workshops on massage and beauty. That afternoon the group headed to the city centre to visit a local museum and the famous Liege puppet theatre.
Monday was the last full day of activities when participants had workshops on first aid and coordinating clothes in the morning, followed by a visit to a Galler chocolate factory in the afternoon. As it was the last night of the training, Monday was also the time for the intercultural evening which featured a meal consisting of a course from each country for dinner, followed by presentations of local traditions and delicacies from each group. The polish group taught us to dance a traditional Polonies dance and the Austrian tried to teach us the Viennese Waltz, while the Belgians held a quiz. Each country also brought some tasty treats to share; the Polish vodka, Austrian wine and Belgian beer were flowing nicely.
All too soon it was Tuesday morning and time to make preparations for departure. It was a very enjoyable few days of learning, exchanging and helping each other. Sarah, one of the sighted volunteers from Austria said that the project opened her eyes to obstacles that visually impaired people face which she had never considered before. She explained, I've met so many super great people. It's a very diversified team in terms of people of different ages here and their life experiences are so different, it's fascinating." One of the blind participants, Milena from Poland also praised the training saying "I did enjoy it very much. I took part in very interesting workshops and discussions concerning different topics and aspects of everyday life and we also had brilliant volunteers with us who were very helpful and patient. For me, this training was a great opportunity to exchange experience and get to know new people from different countries and also various age groups." Another blind participant, Mahindra from Austria said that his favourite workshop was the first-aid session and the debate about embarrassing and taboo topics. He said, "the value of this project is really the intergenerational exchange of information and life experience on things like technology, but also practical things like cooking and maintaining a household"."
Transnational Meeting Vienna​
Anca and Tamara attended the Transnational Meeting in Vienna on from the 10th to the 12th of January,ahead of the final phase of the Beyond Barriers and Boarders strategic partnership. The purpose of the meeting was to share feedback about the training that took place in Liege in November, and to finalise the programme for the final training which takes place in Vienna from the 8th until the 13th of March. These Transnational Meetings are an opportunity for organisers to see for themselves where the training will be held and what it will include, so that they can discuss and come to an agreement about the arrangements ahead of the training.

The project is an intercultural and intergenerational exchange of both blind and sighted participants from Austria, Belgium and Poland. The first training was held in Poland, in 2017 and was the first meeting of the groups. The second training, held in Liege in November focused on daily living skills and included workshops about maintaining a household and self care. Now the project will come to a close with the final training in Austria, where the theme of the training will be access to adapted cultural activities and adapted sport.
This is a report of the third and final training that took place in Vienna, Austria from the 8th to the 13th of March 2018 and focused on the theme of access to sports and culture.
A group of fourteen Belgian participants flew from Brussels to Austria on the 8th of March, including ten blind or partially sighted participants and four sighted guides. Some members of the group had participated in the other trainings, but a few others were new to the project. With such a large group, they successfully arrived in Vienna on Thursday night and settled in their hotel ahead of the first day of training the following day.
Starting the training with introductions at the Austrian National Federation for the Blind and Partially Sighted, the first day of training included an extended visit to the Austrian parliament and a meeting with Ms. Kira Grünberg, a spokesperson for people with disabilities who works for the Austrian People's Party. Having become physically disabled herself after an accident, participants commented that the discussions they had with her were truly inspiring and will resonate with them for a long time. Following this meeting, the group enjoyed a guided tour through Hofburg parliament, before the participants spread around the city of Vienna for some sightseeing, to visit the opera or to attend a classical concert.
Saturday started with a series of workshops on topics including Accessible tourism, National and European disability politics and a workshop continued from the training in Liege Titled Taboo Topics and Questions you never dared to ask. After lunch the group enjoyed an accessible guided tour at the Austrian Museum of Art History, which was highly praised by some of the Belgian group because of the audio description and tactile supports available to accompany the tour. For the evening participants had the option to attend holy mass at St. Stephan's Cathedral or to visit the ballet.

The following day was dedicated to workshops focused on communication training and on exchanging information about guide dogs in Austria, Belgium and Poland, finishing this productive day enjoying dinner at a local restaurant.
The groups continued the communication training in a second workshop on Monday, before splitting up after lunch either to play blind football, or to hear a lecture on Johann III Sobieski. Too soon it was time for the farewell Dinner at another local restaurant called Heurigen.
The final day of the training included a continuation of the first workshops that took place on Friday and a final presentation session, before bidding goodbye to the Austrian and Polish participants and once again heading to the airport for the journey home.
In the evaluation meeting after the trip, participants commented that they found the project hugely beneficial in many ways; some were able to learn from others who live with the same conditions as themselves, others made firm friends and already plan a reunion in the near future.
The Belgian group presented their experiences and feelings from the "Beyond Barriers and Borders" project in an intercultural evening held at the VIEWS office, where people came to share good food and drink and to exchange their experiences of travel and intercultural exchanges.
It can certainly be agreed that the "Beyond Barriers and Borders" project has been an immensely positive experience for everyone involved, and we can only hope to have similarly successful intercultural projects in the future.
2018 transnational meeting in Warsaw​
Last week Anca, Corentin and I went to Warsaw for the final evaluation of the project Beyond Barriers and Boarders.
We first had a meeting with our Austrian and Polish partners. We were given the opportunity to discuss the strong and weak points of this project. Each country is also going to create a "project product" (tips for signature, make-up and communication). We also talked about a future project related to history and culture, taboo questions and solidarity and active citizenship.
We were invited to a concert followed by a dissemination session where we expressed ourselves regarding the whole project. Another dissemination session also took place the next morning.
We were really happy to meet our partners once again and we are looking forward to working with them on a new project.
Sylvie Doyen
The project Beyond Barriers and Borders was carried out from 1st November 2016 to 30th June 2018. It addressed the needs of young and elderly visually impaired who have had deficiencies in basic skills and other key competences. Within the framework of the project, adult people, in a friendly atmosphere and conditions, participated in the lifelong learning process, in intergenerational and intercultural exchange.
The main objective of the project was an exchange of good practices and experience leading to the development and implementation of effective strategies for the improvement of basic skills and other key competences of project participants and other persons benefiting from project's results. It also aimed at improving and extending the offer of high quality learning opportunities. The target group of the project were visually impaired adults at the age of fifty and above and also young people aged 18-30.
It was a strategic partnership project carried out by three organizations working for the visually impaired: the Polish Association of the Blind, The Austrian Federation of Blind and Partially Sighted and a Belgian organization Views International. In total, the project involved 10 participants from Austria, 10 participants from Belgium and 10 participants from Poland.
On daily basis, these three organizations that participated in the project operate for the benefit of the visually impaired. Their goal is to improve situation of blind and partially sighted in different areas.
Because of disability-related problems, project participants were accompanied by sighted guides during 5-day trainings. On average, there were four sighted volunteers for a group of 10 people.
Project activities addressed to the visually impaired from different age groups included:
– National Trainings in Poland, Belgium and Austria,
– Three 5 day trainings that have been carried out in Poland, Belgium and Austria.
– During these trainings blind and partially sighted project participants had a range of opportunities to master or learn new basic or key skills. The learning process was complemented with the use of friendly, accessible devices and technologies for the visually impaired (e.g. Braille, tactile cubes.)
The project appeared to be a reciprocal learning process for participants from two age groups.
Persons aged fifty and above with deficiencies in digital competences (use of computer, smartphone or other electronic devices) had been taught by young participants. In the same project, young participants of the project had an opportunity to learn from elderly friends daily-living skills, including, housework, cooking and folding clothes or taking care of children. In addition to that, project participants shared their experience related to the accessibility of education for persons with disabilities, employment opportunities or accessibility of sport activities and culture for the blind in their countries.
Joint international partnership, mobility and organization of trainings in Warsaw, Vienna and Liege, national trainings and workshops conducted over skype; all these have boosted the motivation of project participants to gain knowledge and experience. This meant the more attractive and effective learning process.
Participation in the project enabled its beneficiaries to master key and basic skills (counting, reading and writing.) Moreover, training participants gained knowledge of daily-living skills (cleaning, cooking, folding clothes, etc.) and had an opportunity to gain digital competences (how to use a computer and electronic devices.)
Essentially, project participants who took part in activities addressed to the learning process, have gained learning habits and are interested in further education and personal development. The essential change of their behavior and attitude has determined quality of their life. Project participants have increased their confidence, are more active in society and are convinced that their life is in their hands.
Activities and project results have gained publicity in various accessible publications issued by organizations participating in the project, information on the project gained wide coverage not only in countries participating in the project. Information about the project have been prepared for the European Blind Union. Additionally Views International organization operates in Europe and information about the project and its results have reached wide range of audience. All in all, the project can be an inspiration for different organizations. Our strategic partnership has proven that education for persons with the visual impairment can be more effective, attractive and of better quality for adult learners.
Makeup tutorial – how to do your own makeup as a VIP?
How to Teach a Blind or Partially Sighted Person to Sign Independently
The importance of teaching body language to blind and partially sighted people
How to Teach a Blind or Partially Sighted Person to Sign Independently
How to make up properly when you are blind or visually impaired + Vidéo​
The importance of teaching body language to blind and partially sighted people​