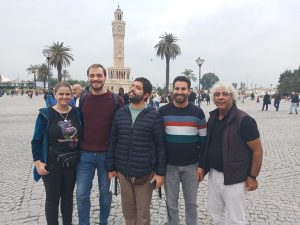 Between 15th and 19th of November, representatives of Germany, Belgium, Italy and Turkey, the four partner countries of the Erasmus + project: Young Urban Creative Inclusive Tours, gathered in Turkey for the third learning/teaching/training/ activity (LTTA for short), which took place in Izmir. We sent five participants to represent Belgium in the project's activities that took place between 16th and 18th of November.
On the first day of the LTTA, participants discovered the history of several districts of Izmir by exploring Historical Kemeraltı and its Bazaar, the day ending on the Clock Tower and the Historic Elevator. On this day, participants discovered the unique culture and cuisine that Izmir has to offer and thanks to the guide that we had, they acquired detailed information regarding the places that we have seen.
The second day the organisers planned to discover the region of Selçuk, where the participants discovered the House of Virgin Mary. After a well-deserved coffee break, we were ready to discover the Ancient City of Ephesus, where despite the rain, everybody had a good time and got the chance to see, touch and feel the different columns, ancient statues and buildings (like fragments of the Temple of Artemis, considered to be one of the seven wonders of the ancient world, or the Library of Celsus) that were making it one of the most important places in the ancient world. Of course, everything was understood even better when we stopped by the Ephesus Museum, where all the buildings and places that cannot be seen today are presented as 3D models in order to better understand how the ancient city was in those times.
The last day of activities started by exploring the oldest settlement in Izmir, Yeşilova Höyüğü. We arrived in that location by crossing the Bostanli River by ship. After seeing and discovering the different pottery types and rocks dated from the Neolithic Age, participants had the chance to experience how the first settlers in the Western Anatolia lived their lives by staying in the huts and grinding wheat using rocks in order to create flour. The final day ended at the Horse Farm in Homeros Valley where the participants experienced horse riding and took part in the evaluation of the projects' activities.
It was a good experience and full of discoveries in which all participants actively took part. This reunion with partners was fruitful and thanks to it we are now more motivated to take part in projects which support work ethic.